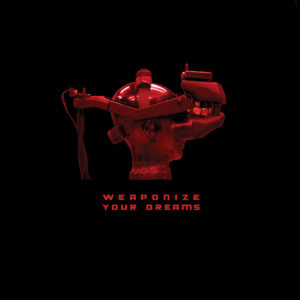 General Dynamics
Weaponize Your Dreams
X-IMG
The appeal and potential of the General Dynamics collaboration should be plain to anyone who's been tracking its two members' recent work. Besides building X-IMG into one of the most reliable platforms for dark electronics, Emad Dabiri's work as SARIN has been keeping him ahead of the techno body music curve for years. Meanwhile, between Lebanon Hanover stints, William Maybelline has been taking QUAL in the directions of cyber-themed dark electro and body horror. Weaponize Your Dreams ticks all of the boxes you'd hope a team-up between these two would hit, with some distinctly old-school production.
As might be expected, Dabiri and Maybelline's shared interest in classic dark electro is certainly a guiding principle throughout much of the LP, with just enough harmonics and hypnotic bounce in pieces like "Draining The Eye" to give things a sense of intriguing menace rather than pure violence. But the stuttering synth bass and bricked kicks which can be found throughout suggest a somewhat different tradition, namely electro-industrial. The frantic, pinchy programming of the title track and stabby synths of "Lust & Vanity" wouldn't sound at all out of place on Gashed Senses or Caustic Grip.
As much as those sounds are generally a good fit for the modes already established by SARIN and QUAL, General Dynamics' combination of minimalist and throwback sounds doesn't always jibe with the duo's compositional approaches on a track by track basis. "Mickey Napalm" feels more like a demo reel, testing various snares against a specific synth bass patch, than it does a fully realized track. That said, the good far outweighs the bad, and the band's overall ethos – especially when you factor in samples from 1950's red scare propaganda and Ukrainian documentaries about the military applications of pharmaceuticals – remains winsome.
Modern TBM can at times feel bloodless and indistinct, as we've been noting for the last couple of years. But when you have Dabiri's sense for rhythm programming and Maybelline's unmistakable vocals (check his wounded bellow on stormy closer "Oblivion Divine"), there's no risk of that here. General Dynamics features the personality and execution you'd expect from this team-up, with some extra punches of classic grit.