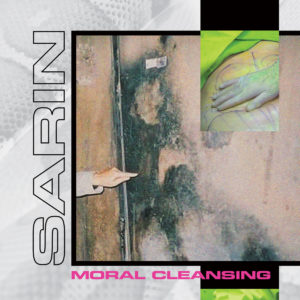 SARIN
Moral Cleansing
X-IMG/Bite
Emad Dabiri's SARIN project was well ahead of the curve, zeroing in on the contemporary wave of techno-EBM crossover on the project's debut back in 2014. Since then Dabiri's made slight adjustments to the template laid out on Rotten, adding lusher and more ghostly production alongside the thickening of beats, but he's been resolute in never being lured too far over into pure techno. EBM rhythms and sounds have remained at the center of SARIN's work, as they do on new LP Moral Cleansing, which offers a more somber post-industrial presentation.
The sense for whip-crack bass and kicks which first drew us to SARIN are on display immediately on Moral Cleansing. "The Culling" is exactly the sort of sharp, economical banger we've come to expect and enjoy, though the foreboding pads which bracket it point towards a newly highlighted side of Dabiri's sound. Charnel atmospherics are woven in throughout the record, sometimes via more ornamental drum fills, sometimes through wheezing pads, and sometimes through cascading, almost symphonic synths as on low-tempo highlight "Amiryah". It's a tune which distinctly recalls Leaether Strip's Serenade For The Dead, but that's not where the dark electro similarities begin and end. Check the early Apop feels of the thumping "Exocet II" or the Klinik-like yowls on "Images In Your Mind" (possibly the first SARIN track to feature original vocals). Without totally sacrificing immediacy or club appeal, Dabiri's added some new depth and portent to his work.
That more brooding and morose sonic turn is matched by heavy thematic concerns. While SARIN's very name has always evoked the modern horrors of war and geo-political unrest, they're pushed to the fore with tracks like "Amiryah" which samples reportage and condemnations of the (more recent) Iraq War. Samples of the wails and lamentations of the relatives of the dead might be a bit too much for some to stomach when set against beats, but Dabiri is clearly doing so to evoke horror rather than quick rubbernecking, as the pacing of the track shows. Without going on an editorial rant, plenty of post-industrial acts have been guilty of amoral militaristic fetishism while failing to account for the corresponding human cost which Dabiri cites here. Factor in the eerie proximity of the LP's title to recent normalization of ethnic cleansing in western political discourse and the brutal relevance of SARIN's aesthetic has never felt more apparent.
Berlin (and the world) remains full of acts working the EBM-techno formula to varied success. Dabiri's releases within that milieu have been some of the most rewarding to track, and not just for their consistency. Moral Cleansing shows off hitherto under-exploited sides of Dabiri's musical interests, and SARIN feels all the more important a project for it. Recommended.