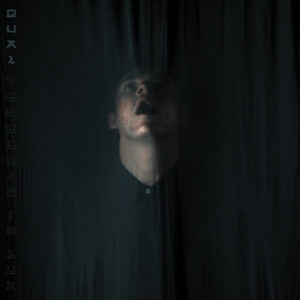 Qual
Tenebris In Lux
Operation Qual Records
Those only familiar with William Maybelline's work in Lebanon Hanover might still express surprise at his work becoming a mainstay of peak-hour industrial DJ sets, either in meatspace or streaming. But to anyone who's tracked the ascent of his solo releases as Qual, the immediacy of records like Cyber Care and The Ultimate Climax has been undeniable, bringing dark electro fire to Maybelline's self-eviscerating fury. Now, several years removed from the less driving abject miserablism of early releases like Sable, Tenebris In Lux finds Maybelline at a crossroads.
Musically, the beats and overdriven programming which have given us stormers like "Cyber Care" and "Inject Your Mind" still make up the bare elements of Tenebris' compositions, but more often than not they're rearranged to create loping dirges. The stuttering kicks of "Insides On The Outside" have drive, but the woozy presentation is (intentionally) as alienating as its body horror lyrics. "Life In The Mirror"'s tight, acidic programming and the lithe whipping of "VR Slaves" could certainly work on some open-minded dancefloors, but the way "Technoid Bloodlust" submerges the contemporary dark techno template into an oily, cycling vortex better communicates the spirit of the LP.
Lyrically and thematically, the unblinking (yet sometimes wry) depression with which Maybelline approaches, well, everything, still makes up a good portion of Tenebris In Lux's sickly charm. While the sheer gloominess of Qual's lyrics once stood out even in a field of generally pessimistic darkwave songwriters, Tenebris' engagement with ongoing catastrophes underscores how universal Maybelline's brand of depression now feels. "Equinox Of Death" could be a transcript of nearly anyone's Twitter feed over the last year: "The supermarket's running out of bread and I just wanna stay in bed…Sit right here with a rager". The more eternal tension between the excoriation and worship of the flesh on "My Body I A Temple", on the other hand, connotes the pure misanthropy of early Swans.
Maybelline's taken to identifying his current style as 'Cyber Sludge'. Whether you choose to interpret that as an electronic reconsideration of the sardonic noise of the likes of The Melvins or as the sound of the the posthuman, cybernetically interpellated subject collapsing into a heap of viscera and reboot loops like a victim in Street Trash, you won't be far off. No matter how Maybelline reorders and rearranges the the skeletons of Qual's compositions, the horror of their anatomy remains.