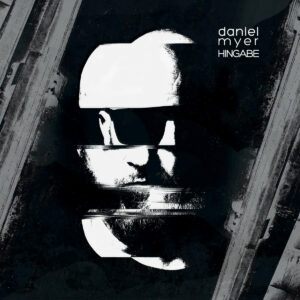 Daniel Myer
Hingabe
Sonic Groove
The fact that Hingabe is being touted as the first LP to appear under Daniel Myer's own name is a bit surprising, both in terms of the bare fact of it, but also in terms of the evident pride Myer has in that fact. Myer has been a fixture in post-industrial music for decades at this point (and a favourite of die-hard industrial fans like us for just as long). His various projects are well documented in both their unifying or distinguishing features; how might a solo LP be any different? Well, to compare Hingabe to DSX's now 10 year old Anonymous EP, in which we for the first time gained a sense of where Myer's partner in Haujobb Dejan Samardzic's individual interests lay, Hingabe serves as a mission statement as to where Myer's individual aesthetics currently are, during a period that's been marked by frequent collaboration.
If the techno focus of the two-handed projects which Myer has spent much of the last few years on, give the impression that Hingabe would walk the line somewhere between those bass-heavy, club-focused projects, the lighter sounds Myer peppers in between the heavier stuff will likely be a pleasant surprise. Opening tracks "Angst" and "Atomic Overkill" respectively add dashes of frantic IDM pings and squelchy filters to the sort of thudding, rubbery beats upon which Myer and Samardzic's Basis Unit Productions label was founded, while the portentous orchestral sweeps of "Ursprung" and "Das Ende" sound like the cinematic dimensions of latter-era Architect releases being reconsidered on the other side of the Rendered and Liebknecht projects.
This isn't to say that more longstanding sounds that go back to Myer's roots can't be found. There's the similarity of the beat to "We Are Going Down" with a certain 242 club classic (and it wouldn't egg-zactly be the first time Myer made a waggish nod to it). Also, longtime collaborators – Samardzic, Rinaldo Bite, Hypnoskull – all pop by to add some of their own colour and to underscore the fact that as prolific and varied a producer as Myer is, he's always been open to having his own ideas reframed by others, even on ostensibly solo records.
Compared with the brute, efficient force of the Rendered EPs or the recent Liebknecht compilation, Hingabe functions properly as an LP, with the sequencing giving each tracks peaks and valleys their own moment. Touching upon just about every mode or style Myer's tried his hand at over the past fifteen years, there's perhaps something fitting about the LP being the first to bear its producer's name.