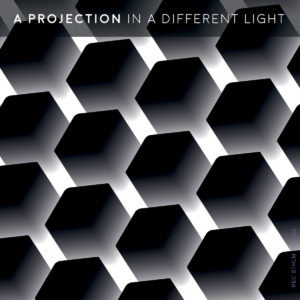 A Projection
In a Different Light
Metropolis Records
For the first seven or so years of their existence Sweden's A Projection were a workmanlike post-punk band, who wrote and performed perfectly serviceable if not especially memorable songs in the modern iteration of the genre. It was with the release of single "Darwin's Eden" in 2021 that the first hints of a change in approach for the quartet first became apparent; the immediately hummable song featured purely synthesized instrumentation and layers of vocal production in service of its sticky hook. That track was certainly the harbinger of the sound of new LP In A Different Light, a record that leans heavily into glossy, dramatic synthpop to good effect.
If you came for more of what the band was serving on "Darwin's Eden" than good news: there's more than a few uptempo, club-ready numbers that share the same template to be found on the record. "Careless", "Regenerate" and "No Control" all have the same emphasis on getting their central melody over, with every production decision and arrangement choice geared to that purpose. And in each case it works, with the songs having just enough differences in execution to keep them distinct, either via the integration of live instrumentation, the presentation of Rikard Tengvall's vocals or the addition of a few builds and breakdowns to keep things dynamic. The band prove themselves capable of dressing up their songs enough to distinguish them without overcomplicating them or obscuring their most graspable elements and it ends up being the defining characteristic of the record.
There are certainly moments on the record where that application of studiocraft does some more heavy lifting, with the production and performance gussying up a tune to the same range as the album's big highlights. "Lost Conversation" has a nice mid-tempo bounce, and uses some clever rolling drum programming and splashes of keys, backing vox and orch hits to help bolster its meandering chorus. "Paris-Stockholm" employs guest-singer Sarah Boom of Turquoise to provide torchy and baroque French vocals, giving what could have been a lesser composition a huge boost into very charming territory. While it doesn't always work – "Confessions"' New Order allusions can't sell its middling tune for example – A Projection do a good job of giving every track something to distinguish it and keep it moving.
And that's ultimately what makes In A Different Light a solid and quite enjoyable listen all the way through; it has a handful of killer tunes to anchor it, and every other song, if less immediate, still has something to make it stand out instrumentally or stylistically. That's hardly an easy thing to accomplish, and its hard to imagine the somewhat dry A Projection of a few years back being able to achieve it. Whatever internal creative compass led them here, they've done well by following it, and elevated themselves on the journey.