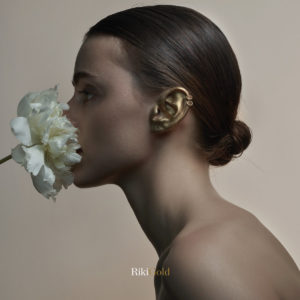 Riki
Gold
Dais Records
It's been quite the year for looking on the bright side of goth. Between Double Echo heading for tropical nu-romantic territory with ☾ and Nuevo Testamento's full-bore freestyle fantasy we've had some exceptionally bright and poppy records from artists who cut their teeth on the darkest of fare. Of course, Riki's Niff Nawor was ahead of the curve, switching from the crust-goth attack of Crimson Scarlet to the balearic synthpop of Riki's Hot City EP back in 2017. After a breakthrough LP last year, new record Gold keeps just as clear an eye on bright pop stylings, but opts for far more restraint and focus on vocals while doing so.
Gold begins with some of the same clear nods to classic synthpop as Riki, but by the time the chorus of opener "Lo" puts Nawor's clarion but slightly wistful voice in sharp relief against an understatedly funky bass riffs, a lateral shift in focus become apparent. Much of the melodic heavy lifting of Gold has been given from the synths to the vocals, from the listfully entranced lope of "Viktor" to the paradoxically anthemic dreampop of "Florence & Selena". That comes with a corresponding shift in production. The lush saturation of the self-titled record, which went along with its sense of being a hitherto unknown period release getting a reissue, is replaced with a more precise and delicate mix; more Japan than Simple Minds.
At times, this artful minimalism puts the songs in an ideal light. When Josh Eustis steps from behind the producer's desk to join Nawor in the booth for new wave duet "Marigold", Nawor's glamourpuss delivery bounces off Eustis' wounded ghost, the contrast acting as an engine for the minimal but hooky track. The uncannily precise fragility of "Porque Te Vas" frames Nawor with an elegantly light haze of synth perfume. But at other points, the concession of the piece's core to the vocals leaves the track bare. There's nothing wrong with the sotto voce dub of "It's No Secret" per se, but it's tough to track as anything other than a carrier for Nawor's voice. The vocals and beat of "Last Summer" circle around each other with the quirky rhythm of people trying to avoid bumping into one another at a house party, but neither ever take control of the situation.
Riki's shift towards a minimalist and elegant version of synthpop is definitely a refinement of the project's scope, and it's impressive to hear how quickly Nawor's adapted to a style of songwriting and arrangement which calls for far more nuance than the broad, Italo-esque dancefloor moves of the debut record. It may not be as overt or immediate as what's come before, but Gold shows that Riki's talents for pop precision run far further than we might have known.