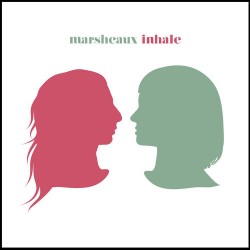 Marsheaux
Inhale
Undo Records
There's something elemental in what Marsheaux does, an invocation of the nostalgic rush you get from listening to classic OMD and Human League albums. The traditionally-minded synthpop Marianthi Melitsi and Sophie Sarigiannidou write and perform is wonderful to listen to, although that appreciation is somewhat tempered by associations with their inspirations. That's not entirely without reason, the Greek duo has often invited comparison by covering a variety of seminal new romantic and electropop tunes over the years. Their new album Inhale is all them though, and while less even than some of their other work in terms of overall listenability, at its best it can still inspire feelings of elation.
Marsheaux are well past the point of being easily pigeonholed as a throwback act, and if nothing else Inhale shows the full breadth of their development as artists in their own right. The album is bookended by two absolutely fabulous songs in the form of "Self Control" and "End is a New Start"; both are wonderfully upbeat tunes that revolve around Sophie and Marianthi's vocals and cleanly sequenced synth progressions and waste no time in establishing themselves. That immediacy is part of the group's charm; Marsheaux understand that good pop is efficient in form and delivery, and keep their best feet forward at all times, avoiding unnecessary diversions in style or excessive production. That doesn't mean they don't have some fun playing around too: the surf rock beat and synth organ give the title track a sunny, adventurous feeling, reflected back in a darker form in the melancholic instrumentation of the slower paced "August Day".
There's no doubt that Marsheaux write good songs. There isn't a single number on the album that I would objectively qualify as bad, or even lacking. That said, I do find my attention wandering a little when I listen to Inhale, possibly due to the choices in song sequence. I have no complaints about the bass-led "Alone" or the groovy Goldfrapp-esque "Come on Now" when taken individually. They're cute and fun and most bands would be happy to have songs as good as them. I guess the issue is that they (along with the softer "In The End" and "Never Stop") feel less substantial than the peaks at either end of the record. When Marsheaux are on they're so on that their less outstanding songs seem a bit diminished. That's a bit of the comparison game again, although in this case it's Marsheaux battling against the expectations they've set instead of the ghosts of their stylistic predecessors.
At four years since their last release, I suppose it's entirely possible that I let the anticipation unfairly skew my perceptions of Inhale, so let me be clear: I think it's a good record, with great moments. Perhaps it's a bit gauche to mention this, but I'm honestly kind of amazed that Marsheaux were able to make something so breezy and agreeable in the face of their country's economic and political collapse. I don't know that it makes any sense to read the record through that lens considering its gestation, but it's hard not to hear the "Get your life back/Let's get out of this trap/the future is now" chorus of "End is a New Start" as a kind of call to arms. Marsheaux are all about pushing upwards and onwards and at their best their potential seems limitless.