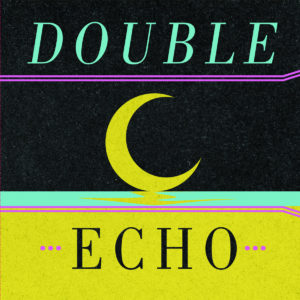 Double Echo
☾
Fabrika Records
2019's Burning In Blue was a case of the stars aligning for Double Echo. After years of experimenting with different shades of goth, post-punk, and shoegaze, the UK/US trio tapped into a deep and rich vein of ethereal darkwave with their fourth LP which was as rewarding as it was subtle. Following it up a couple of years later is the unpronounceable ☾, which despite its nocturnal implications marks an abrupt and bright 180 turn from its predecessor.
The sharp synths and trotting rhythms which greet the listener in opener "Fountains Of Remembrance" aren't completely removed from Double Echo's existing discography, but longtime listeners will have rarely heard them delivered so directly and plainly. The cleanly delivered synth bass and pads which track along at a good clip have a plainspoken clarity far removed from the mist and shadow of Burning In Blue. Nor have Double Echo ever focused on such poppy and uptempo sounds for an entire record. Through "Rendevouz"'s thumping homage to The Human League to the italo pulse of "The Verge Of Tears" which closes things on a decidedly tropical note, this is about as peppy a record as has ever been released by a band who also has something as overtly gloomy as Phantomime in their back catalog.
Although it doesn't feature either "In The Gallery" or "The Bairn" (releases featuring Scots dialect and dogs on the art will always nab my attention), both of those singles from earlier this year presaged ☾'s stylistic shift, pointing to a focus on cleanly chiming synths and lively funk bass. But even saying that, the moments which match "The Bairn"'s swirling trills, like the fraught drama of "Melody Saw", are few and far between, and the cool groove of "In The Gallery" sounds sparse in comparison to the gallop of "No Stars". Again, none of the core elements of the record are wholly without parallel in Double Echo's history, but the frantic pace of the rhythms and sugary rush of oh so many synths makes them sound like a whole new band.
The sound of ☾ (no, not THAT one) might seem to sit at odds with its thematics – ghosts, betrayals, and unspeakable horrors are still Double Echo's gothic mien – but everything holds together. Ash Lerczak and Ellon Souter's vocals are largely responsible in that regard, providing a balance between earthy confidence and a certain otherworldly je ne sais quois. That balance seems to speak to the larger gambit Double Echo pull off here – an intrepid darkwave band stepping out of the moonlight and into the sun.