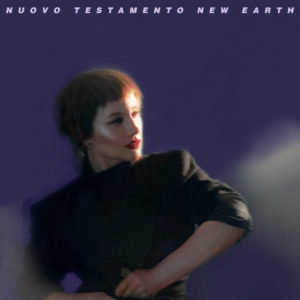 Nuovo Testamento
New Earth
AVANT! Records
At I Die: You Die we have long held to the maxim that real goths love freestyle, but real goths making freestyle is a whole new situation. And yet that's what Nuovo Testamento have presented us with through their new LP. After a solid introductory EP of darkwave (2019's Exposure), the US/Italian project has shifted its focus to a hooky mix of freestyle, italo, and synthpop.
That all of the members of Nuovo Testamento have their roots in hardcore/deathrock – Crimson Scarlet and Horror Vacui most notably – might be nigh impossible to detect upon a first pass at New Earth's pastel washes of synth (though at least one other member of Crimson Scarlet has taken a similar path of late). Indeed, the group sound so at home in the groove of opener and excellent lead single "Michelle Michelle" that it's difficult to imagine them plying anything other than a dramatic and emotional take on freestyle, replete with orch hits and broken hearts. The line between freestyle and italo disco can be a difficult one to discern, but "Vanity" pretty clearly falls on the latter side of that divide, with exactly the sort of loping beat, rubbery bass and big stabby leads that have permanently lodged countless italo jams in our collective consciousness.
There are moments on the record which cleave a bit closer to the styles of synthpop which have always co-mingled with darkwave and goth, but even those are a far cry from the group's work on Exposure. The gloomy swing of "New Earth" suggests mid period Depeche Mode, and the dreamy reverie of "Golden Boy" still retains some syncopated funk. Hell, there may even be a subtle nod to "Everything That She Wants" in the backing vocals to "Intuition". Point being, this is a record which still owes a debt to the funkier and more disco-driven uses of 80s synths than the contemporaneous somber material emanating from Germany and the north of England.
As someone who unabashedly enjoys freestyle and italo (though is far from an expert in either tradition) a record like New Earth is an unexpected yet welcome addition to my summer soundtrack, but it also broaches larger questions regarding dark music, synthpop, disco, and the provenances thereof. Are there goths out there who'd be willing to give approbation to material with the pedigree of Nuovo Testamento but who'd never think to bump "Silent Morning" or anything by Kano? Possibly, but I'd argue that they're missing out, just like anyone who might be hesitant to follow Nuovo Testamento to the seaside climes of New Earth. C'mon, a little sun's not gonna kill you.