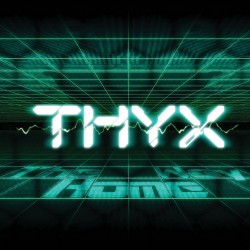 THYX
The Way Home
THYX Records/Metropolis
When we last heard from mind.in.a.box mainmain Stefan Poiss he was releasing one of the best albums of the year plus a remix EP just a scant few months ago. Given that busy schedule it seems remarkable that we already have a new release from him, the debut LP from m.i.a.b side-project THYX, but it's tough to say how long The Way Home has been in the works (though in the liner notes Poiss cites the project's origins in a fifteen year old song). That sense of being a record out of time and without expectation plays in The Way Home's favour, and makes for a more impressionistic and free-form take on the sound Poiss has showcased and honed as mind.in.a.box.
Despite its instrumentation not being radically different from that found on Revelations (rich leads nestled in lush pads and washes with elaborate and proggy drum programming), The Way Home certainly feels like a slow-boil of a record, chiefly thanks to the looseness of its presentation. In comparison to the rigid narratological and thematic structure of the core four m.i.a.b records, THYX seems to have developed on a piecemeal basis, with tracks emerging of their own volition and on their own schedule, making The Way Home's primary appeal lie in something no mind.in.a.box release ever has dared do: simply being a collection of songs.
That open-ended, roaming quality (which was presaged by Poiss in our interview with him: "THYX is a project where I will take any freedom I want") is apparent early on in "My Own Little World". The juxtaposition between the brooding verses, which have a very m.i.a.b feel, and the open-ended, dreamy choruses (on which Poiss showing off his improved vocals, free of distortion) helps to cement the song's plea for a whimsical escape. Similarly, "In The Past", which has an almost 90s ballad feel to its construction, has an infectious, breezy liberty that seems content to revel in nothing further than its own expression.
One of the long-running observations about mind.in.a.box (which has alternately been celebrated and lamented by fans) has been the band's unwillingness to include the odd shameless bid for club play in their albums. The Way Home has no such compunctions, and hence we're treated to the no-frills thump-along of "Awesome", the shortest track on the album by a full minute. It's difficult to imagine a track as straightforward as this ever appearing on an m.i.a.b record even without the flippant vocals – "You say it's awesome / Yeah, right, it's awesome / God damn, it's awesome / It's fucking awesome" – with Poiss' voice sounded super-processed (yes, even by his standards), to the point that the chorus sounds like it's been spoken by a clunky old dot-matrix printer. Sounds goofy? Damn skippy, but it's also fun, and getting to hear what one of the undisputed masters of this genre sounds like while he's horsing around (some embarrassed studio laughter is retained at the end of the track) is a treat.
While not every one of The Way Home's tracks hits the mark, I felt way less guilty about picking favourites and sticking with those than I would have on a m.i.a.b record, which would demand to be taken as a whole. While definitely a release for mind.in.a.box fans first and foremost, reactions to THYX within that subset should be as open and free as the music presented here. Go into The Way Home eye to eye and on its own terms, and you should soon be finding something to latch onto and float away with.