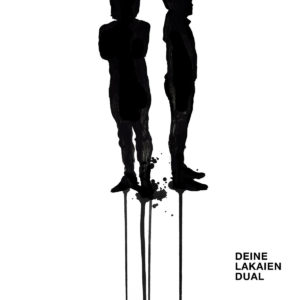 Deine Lakaien
Dual
Chrom Records
Deine Lakaien sits out of time. That's not just by virtue of the project's debt to various art music traditions which predate by centuries the darkwave genre to which they nominally belong; the two threads which have run through all their work – Alexander Veljanov's wounded baritone and Ernst Horn's talent for deceptively complex synth arrangements – have been in place for decades. Those have proven themselves capable of weaving such rich tapestries that there's been no need for the German duo to radically reinvent themselves. Apart from production quality, a neophyte would be hard-pressed to distinguish recent DL tunes from those dating back thirty years. All this lends something of the uncanny to Dual, a record of covers preceded by one of originals loosely inspired by the former.
Beginning Dual with the suite of originals is a savvy move. It might seem contradictory to put these originals before their sources, but quite frankly the connections between "Because Of Because" and Smith & Springsteen's "Because The Night" or "In Your Eyes" and The Cure's "The Walk" are barely perceptible to all save the proverbial fly on the wall in the studio. Instead, the first half of Dual is best taken as a standalone Deine Lakaien record. And by that metric, the band is the same beguiling combination of romanticism and experimentalism which has earned them a fantatical European following and kept North American audiences perpetually at bay. "Because Of Because"'s challenging polyrhythm belies the lulling, descending simplicity of its strings. "Les Oiseaux" pulses intensely, Veljanov switching between quotidian observance and existential investigation in French while Horn recreates the titular animals' call via strings – classic Deine Lakaein, in other words.
It's an odd jump from the familiar elegance of Veljanov and Horn's original work – much of which, again, feels like it could have come at any time in their career – to the specific histories and contexts of their covers. In contrast to the psychedelic looseness of The Cure's original, Horn jabbing out the synth riff to "The Walk" in an uneven staccato has you second guessing the easy smoothness of Veljanov's delivery. The easy harmonies of "Dust In The Wind" (yes, that one) lend themselves surprisingly well to bubbly, Erasure-esque synthpop, while there's something unnerving about Veljanov getting right into the panto-camp spirit of Kate Bush's "Suspended In Gaffa". It's remarkably true to the original but far removed from his characteristic somberness, which he lends well to a Linkin Park number. Musically, Horn's transpositions can paradoxically alienate the listener just by virtue of sounding like Deine Lakaien: the off-kilter beats and muted strings of "Black Hole Sun" (which might suggest trap to listeners unfamiliar with the band's sample-driven approach to darkwave) are wholly estranged from the brow-beaten psych-grunge which is the lingua franca of all children of the 90s. A selection from the Jacques Brel catalog, delivered via acoustic strings and piano, is just the opposite – so many stylists have tried their hand at Brel that Veljanov slides in easily.
Dual was first heralded by last year's release of Deine Lakaein's version of "Because The Night". It was a stunner upon arrival, and one which well communicated Dual's overall ambitions in retrospect. An inseparable part of both its writers' massive careers, it's a song that would overshadow most performers, and yet Horn and Veljanov guided its unbridled spirit into a haunted gothic cathedral and bend it to fit their own aesthetic without robbing it of its power. As a concept Dual could have proven disastrous in the hands of a band less technically skilled or aesthetically willful, but it has the same weird glory with which Deine Lakaein have always glowed.