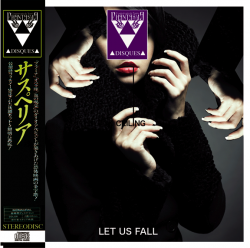 BLVCK CEILING
LET US FALL
Phantasma Disques/Self-Released
It's getting pretty difficult to keep up with Spokane's witchy phenomenon BLVCK CEILING. Taking advantage of the internet self-release model to the fullest, the young project has been steadily pumping out remixes and originals at a pace that frankly has left me a little winded. Considering how prolific BC has proven to be (their Bandcamp shows four separate releases of varying lengths over the last month alone), it's remarkable how consistent the material has proven to be; razor sharp cymbals, dusty claps and drum machine kicks paired with sweeping electronics in a style that has the digital grandeur that's setting the pace for the numerous bands looting witch house's assets for their own stylistic purposes.
Originally released as a limited CDr by Phantasma Disques last December, Let Us Fall might be the best pure example of what BLVCK CEILING does well. Tracks like "Battle Son" and "Fade Glass" don't feel like they progress from segment to segment so much as they just coalesce that way, all naked drum machine and chorused-out sample at the outset supplanted by reverbed bass and fluttering synths by the end. Slide the emphasis on each element around a bit and give or take some polish, and that aesthetic is shared by pretty much every song BC puts their name to, a format surprisingly resistant to wear and tear over the course of numerous tape, CDr, and digital releases.
The not-so-secret ingredient in the mix is the liberal dose of genuine feeling BLVCK CEILING doses tracks with. Whether it's the chorus from some lame piano cover of The Cure`s "Lovesong" getting mutated into a trapped-up beast on "Sight", or the massive build and release of "Hello, Mircalla" (a slightly rejigged version of a previously released remix of M‡яc▲ll▲'s "Şpєcŧr▲l"), BC have a knack for creating emotional spaces in their tracks. In some ways it's a corollary of what Araabmuzik did on his critically acclaimed album Electronic Dream, appropriating the uplifting elements of electronic dance music and turning them towards melancholy, although for my money BC does it with a subtler, more textural touch.
The pitfall of the digital environment that these songs exist in from conception to distribution is the potential for sterilization; the relatable human elements sucked out somewhere between the artist's DAW and the listener's hard drive. That something so purely electronic can still be so redolent with humanity is what keeps me interested in what BLVCK CEILING does, and for those unfamiliar LET US FALL is as good a place to start as any. This is black lodge music, weird, resonant and alive. Pull aside the curtains and step inside.