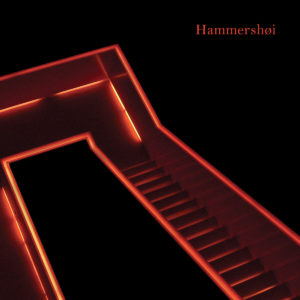 Hammershøi
Cathédrales
Swiss Dark Nights
French synth duo Hammershøi's new LP Cathédrales threads a number of musical styles and traditions, from classic French cold wave and minimal to synthpop and electro. While comparable to their self-titled 2020 release in terms of the style and execution, the new record cinches genres together more compactly, harnessing the nervous energy of their earlier compositions into more confident, potent and punchy songs.
That tighter and more precise approach is especially apparent in the album's speediest numbers. High BPM tracks like "Abîmes" set their pace quickly, with cracking drums and burbling synth bass and Anne Dig's half-spoken half-sung vocals adding a detached and icy counterpoint to the song's rapidfire tempo. It's an uncomplicated approach, but one that works because of good Hammershøi are at keeping everything moving in perfect lockstep, shifting gears expertly between sections and sequences with sureness and confidence. You can hear the same skills at work on the manic "Maria S.", with the addition of Ben Montes' own surefooted vocals, punch-sound-effect snares and whip-crack mini-breakdowns.
Still, Dig and Montes can work their way through a classic austere synthpop number with equal aplomb; album opener "Je Te Vois" has the timelessness of a classic wave deep cut in its hypnotic bassline, reserved dual vocals and high-keening melody – the kind of track that could have dated from 1980 musically despite being minted this very year. Its immediate follow-up works classic electro-pop via a slightly more sweet and playful delivery, the octave bassline and bemused sounding delivery of its lyrics lending it a certain continental amiability.
That charm is present throughout Cathédrales, either overtly as on the reflective organ-inflected closer "Dédales" (one of the songs that points directly to Visage, who I'd wager are a primary influence) to the more straight-faced and mock-severe "Hammershøi assassiné". Charismatic without being showy, and precise without sacrificing vigor, Hammershøi are reaping the rewards of being completely dialed-in to their approach.