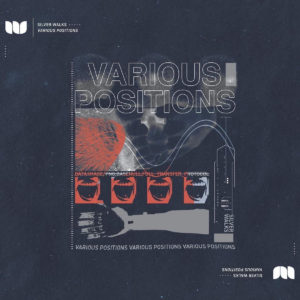 Silver Walks
Various Positions
Distortion Productions
There was a lot about Silver Walks that had us flagging them as a long-term prospect with a lot of upside as far back as 2015. There was sole member Dan McCullough himself, whose considered positions on industrial would certainly bode well to anyone who'd ended up talking shop with the unassuming Philadelphian at festivals. But more importantly there were the early Silver Walks tracks themselves, which showed off a canny sense for what works in terms of electro melodies and structures, but also brought some distinctly American flavour to sounds commonly associated with Europe. But even with those things in place, first LP Various Positions still exceeds expectations, namely by finding the ideal spots for its various contributors, and for its deft interpretations of a whole range of post-industrial sounds and styles.
Given that Marc Heal's storming turn on "In Consequence" has already been drawing acclaim for a couple of weeks, it's worth just taking the bull by the horns: the sheer number of guest contributors making their presence felt on Various Positions will likely be its calling card for those just cottoning on to Silver Walks. McCullough seems to have had a keen sense of what each collaborator would be able to bring, and sets the table perfectly for each of them, from the millennial breaks which electropop chanteuse Stella Soleil cruises atop to the deconstructed symphonic post-rock which tags in James Francis, Eva X, John Jacobus, and Ryan Mast in short order. And hell, having John Fryer mixing exactly the sort of lush, electro and production driven joint the legendary producer has been creating himself for the past few years is just the icing on the cake.
But even beyond the smoothly revolving door of contributors, Various Positions' ability to change-up the core sounds and influences of its compositions is what really puts McCullough's talents into sharp relief. He's just as handy with "Tear Me Down", a sultry mid-tempo darkwave kiss-off, as he is with "Lantern" and "Mirrortowne", the American-styled industrial rockers which bookend the record are half late period Wax Trax!, half Imperative Reaction, but more satisfying than either generally is. The clattering percussion, bleeps, and rhythmic samples of "Eyes Of Caligula" are a whirlwind tour of industrial sound design from the past forty years.
It's with that comfort and capability with all of the sounds and sub-genres which Silver Walks draws upon in mind that the real strength of a track like "In Consequence" comes into relief in the context of the record. Sure, it's got Marc Heal doing Marc Heal things and it should absolutely go off in a club. But in the context of Various Positions as a whole, it can be recognized as a a piece which sounds intense without being needlessly loud or aggressive, which gives the wounded vulnerability which is so often just barely present in the corners of Heal's vocals the full spotlight. These are all approaches which can get even the most jaded of listeners approaching some familiar sounds from a refreshed perspective, and on Various Positions they'll be ably rewarded. Recommended.