End to End is our track-by-track take on non-album and compilation releases, in which we try to give thumbnail first impressions of each song and point to particular numbers for cherry-picking via the consumer's online retailer of choice. This time we're running through the first official taste of Canadian rhythmic industrial juggernaut iVardensphere's forthcoming LP The Methuselah Tree.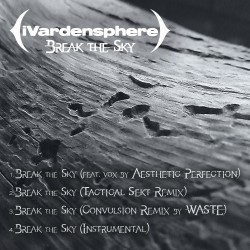 iVardensphere
Break The Sky
Metropolis
After the seemingly impossibly short gestation periods of Bloodwater and Apok, Scott Fox took a full two years to craft The Methuselah Tree. While he certainly wasn't sequestered in the studio, between touring incessantly and collaborating on the Voster project, advance buzz suggests that Fox's fourth iVardensphere LP will deliver ample evidence of His runaway production chops. Let's see what's under the hood of the first single!
"Break The Sky"
Structurally, this feels like a bit of an odd choice for a first single by most measures. Clocking in at six minutes, "Break The Sky" begins with what feels like an instrumental overture: plucked strings and acoustic guitars laying down a serene but foreboding atmosphere. After a couple of minutes this prelude abruptly bubbles away into a detuned, side-chained and flanged all to hell bassline which draws a pretty effective and clear path from This Morn' Omina right to dubstep. It's the sort of high-gloss tour de force which iVs has become known for, and when there's another quick shift back into the near waltz of the original, it almost feels like Fox is pulling a sort of "watch me build a floor track with one hand tied behind my back" handicap stunt. Strong work. Daniel Graves' guest vocal turn matches the tune's rhapsodic structure, alternately plaintive and going into the distortion-free but fried rasp that's marked Aesthetic Perfection's recent work.
"Break The Sky (Tactical Sekt Remix)"
An odd blend of the sort of hyper-clean cyber sound Grendel have been forging into (found in the interstitial bleeps on this mix) and the straightforward aggrotech on which Tactical Sekt built their brand (oontzy kicks and a simple four note minor key lead). I feel like this mix suffers from half measures: it's not sufficiently polished or distinct to attack headphone spins, and by playing their traditional cards too close to the chest, TS have hamstrung their usual club viability.
"Break The Sky (Convulsion Remix by WASTE)"
Ah, here we go. Carried by a simple beat that's half rhythmic noise, half straight-up rock n' roll, the original track's quieter elements as well as its pinched bass and Graves' vox are swept up in a confident, percussion heavy work-out. All manner of drum breaks find, their way into a version that takes a while to build up, but is well worth the wait. Solid work from Shane Englefield and co.
"Break The Sky (Instrumental)"
A straight-up instrumental edit keeps the spotlight firmly on the track's production, as well as some cool internal rhythms in the scraping bass which I missed on my first passes at the original.
The Takeaway: iVs fans should find lots to like in "Break The Sky", though its daring arrangement may get them wondering about where Fox is taking the project conceptually on the new record (watch this space!). The WASTE mix merits a solid buy for any and all DJs looking for a bit of wright in their sets.