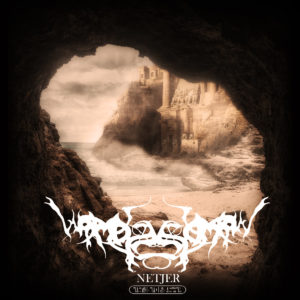 Worms Of The Earth
Netjer
Zazen Sounds
Dan Barrett's Worms Of The Earth project has grown into a far more extravagant and, frankly, compelling beast over the past few years than its origins in powernoise could have ever presaged. Pushing the notion of ritual industrial into ever lusher and frankly prettier territory, Barrett's recent work has found apt musical accompaniment for his increasingly arcane interests. Having centered his preceding three records around Buddhist, Satanic, and Kabbalistic practices, we're off on another metaphysical trip with Netjer. While a record dealing with the ancient Egyptian underworld is very much on-brand thematically, it's the ease and art with which Barrett integrates new instrumentation into the now well-established modern Worms of the Earth ethos that most impresses.
The drums, flutes, and strings meant to connote the various rites and entities with populate the infamous Book Of The Dead are perhaps an easy enough lateral move given how similar sounds have been used by Barrett on the preceding records. But it's not all ancient acoustics on Netjer: the deep drones and watery samples which make up "The Hidden Pyramid, Where The Astral Is Given Form" are classic dark ambient through and through. Elsewhere, a hybridization of all these elements alongside more established post-industrial sounds yields interesting results: lengthy closer "The Spell To Evoke The Amenti" recalls Barrett's criminally overlooked Ghosts In The Clocktower project by laying those acoustic elements atop spaced out shimmers and pads.
One of the great and hidden mysteries of ritual industrial unearthed by Barrett back in 2012 with Anāgāmi (and underscored by its ambitious reworking) is that communicating the sorts of moods and philosophies that genre lends itself to needn't be a ponderous or turgid process. There's an invigorating, almost lithe bounce to "Khat, Formed From The Black Sands" as simple piano lines thread through lively drums at quarter time: part tarantella, part meditation. Even on the more explicitly ambient tracks there's a constant fluidity that never prompts the listener to drift away from the presentation of sounds at hand.
It's wanton speculation, but I wonder if Barrett's throwback aggrotech side-project Venal Flesh has played some part in the harmonic and textured progression of Worms Of The Earth. With an easy release valve for his harsher interests at hand, he's been able to bring his primary work into far more fecund and varied terrain than the project's earliest releases could have ever foresaged. Barrett's been on a roll for the past few years, delivering deep but immediately enjoyable works like Netjer, and shows no signs of slowing down. Recommended.