Happy Monday, gang! I suppose the big news in the North American industrial world this week has to be the announcement of a second Cold Waves festival in Chicago this September. As you no doubt recall, Cold Waves was inaugurated last year as a tribute to the memory of Acumen Nation/DJ? Acucrack member and all-around Chicago industrial scene staple Jamie Duffy. Our own resident Chicagoan Matt Pathogen covered the event last year and will be similarly on the spot this year to give you the skinny on appearances by the likes of Hate Dept., Douglas McCarthy, Die Warzau, Skrew (!), and Prong (!!). Stick that in your mental rolodex for the fall, and let's get going with today's tracks.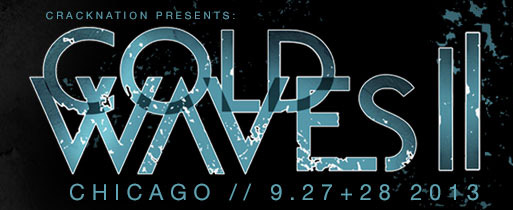 Everything Goes Cold, "Crawl Of The Black Beast (demo)"
Speaking of cold wave, there are rumblings from the subterranean obsidian vault of that genre's most learned historian, Eric Gottesman. Everything Goes Cold have posted three demos for the forthcoming Black Out The Sun album. I don't want to read too glean too much about the record's musical direction from these stripped down tunes, but it's safe to say that EGC are doubling down on the (slightly) more serious and reflective take on their themes of super-villainy which The Tyrant Sun pointed to.

Phil Western, "Come Inside"
Rumblings about new Download material aside, Vancouver's own Phil Western's given us loads to be happy about with his recent explosion of material on Bandcamp. I've been bumping his new album Melodium, from which this track is taken, for the past week or so whenever I've needed a pick me up of the sunny, trippy techno which we love Phil for. (Also, if Dark Features somehow passed you by a decade back, cop that now: an amazing record which was one of the keystones to my getting acclimatized to living in the big city.)

Wire Fences, "Monopole"
'Twas a mere two weeks back that I dished about Michael Morton's reemerging Crime League label's compilation of ambient tracks, and that's already been followed up by A Thing About Machines, a much larger comp with a more open range of sounds. In addition to Mississauga's Wire Fences, we've got tunes from Displacer, Architect, l'ombre, Anklebiter, and plenty more on the docket. Give us some time to breathe, Michael, yeesh!

The Impossible Girl, "Stellar Alchemist"
A tip o' the Apollo 11 crew cap to @Samuel_Erkison for directing our attention to the astronomically-minded The Impossible Girl, whose work is bringing to mind Kate Bush, minimal wave enigma Kym Amps, and possibly even my beloved and underappreciated Happy Rhodes. Forthcoming album The Sky Is Calling looks to be right up my alley, and should make for a nice soundtrack to hunkering down with some thick slabs of Ken MacLeod and Alastair Reynolds.

Underfelt, "Untitled April 2013"
The last time we grabbed brews with our boy Réal of Comaduster he was talking quite animatedly about new developments he was noticing in drum n' bass which had gotten him excited about the genre again. I got waylaid by too many lambics and oud bruins to remember the details, but the proof's in the pudding just a few weeks later as he forges ahead with his dn'b side project Underfelt. Super-sculpted, super-wet sounds to be found here.