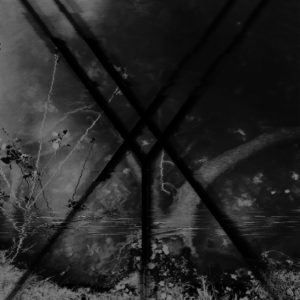 Crystal Geometry
I Stare Into Darkness
Bloc Noir
Maxime Fabre's previous two Crystal Geometry records, released in as many years, have almost single-handedly kept us optimistic about the future which might still lie ahead of the current wave of techno-body music. Embracing the album format while maintaining club instincts and adding a plethora of sounds and outside influences to a style which is often hermetically austere, Senestre and Distressing Visions were landmark achievements. While new LP I Stare Into Darkness doesn't quite measure up to the high standard set by those records, it's still a clear demonstration of Fabre's powers and creativity.
On the whole, I Stare Into Darkness continues to showcase the rhythmic instincts and technical acumen which has put Crystal Geometry head and shoulders above the current crop of TBM producers, many of whom seem more than content to tread water. The chopped up choral pads, guttural vocals, and metallic distortion of "Wildfire" are as good an introduction as any to the extra sounds and moods Fabre brings to the style. The speedy "Action Directe" is far more 'traditional' in terms of its layering of deft, cyber-tinged sixteenths between kicks which wax and wane across multiple builds, but Fabre's knack for the subtleties of arrangements and mixes just work better than most of the field even when he's using familiar tropes.
There are moments on the record where Fabre's clear interest in the album format perhaps gets the better of him. Despite not having a run time much longer than the two preceding Crystal Geometry records, at fourteen tracks it feels a bit more protracted than it actually is, with much of the middle third falling into a bit of a rut. The global malaise which "Sombre Siècle" speaks to is certainly relatable and of the moment, but feels like a weary drag on the overall intensity of the record. This isn't to say that TBM can't tap into a more muted and depressed mode in opposition to the strident anger with which Fabre has met world issues on previous records, but that it perhaps requires a different style of presentation.
I Stare Into Darkness is at its best when it pushes forward with Fabre's integration of sounds from well outside of the techno world, namely metal. Metal guitar passages have been cropping up in plenty of Crystal Geometry tracks over the past few years, but here there's a sustained focus on black and death metal riffs which gives the record a whole other dimension. "Z Blood" does a great job of modulating between techno kicks and blast beats, the latter of which serve as a fitting base for its riffs. while the guitar plays a supporting role in the throwback gabber of "Ensnare", its half-time breakdowns feel just as suited to metal as electronics, while the slow emergence of a simple enough riff packs plenty of movement into the relatively short run-time of "The Nature Of Iblis".
While far from perfect, I Stare Into Darkness is proof positive that TBM doesn't have to fall into moribund genre exercises or aim for the lowest common denominators of club accessibility. It's a style that isn't so much lacking for profile or exposure so much as fresh ideas, and Crystal Geometry is an entity abounding in the latter.