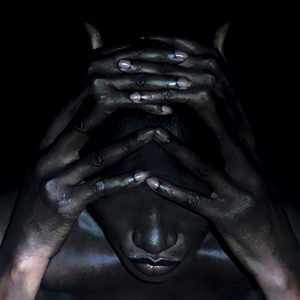 Tati au Miel
Solar Return
self-titled
Montreal producer Tati au Miel brings raw noise, field recordings, and moments of still beauty to their new record, Solar Return. Following up 2019 EP The Exorcism Of Tania Daniel, full of wet glitch and classic power electronics, plus a gabber-inspired remix for Special Interest last year, Solar Return's compositions are more austere than those previous works, but in short order conjure a range of experiences and emotions.
Solar Return's abrasive side matches up with its political and confessional themes – chopped and mutated field recordings from BLM protests and accounts of various people's dreams and anecdotes are paired alongside slabs of slowly shifting pure noise and unparseable stacks of samples and feedback. It's a technique which ends up amplifying the experiences the vocal samples point to, making them feel more tangible and present, rather than obscuring them with abstraction. That hyperreal saturation of mood and emotion also applies to the record's serene elements, like the ascending chimes of "Sunset Village" which add resonance to the koan-like guest vocals of NY digipoet Yatta.
Even when they're not directly referring to personal experience or recent events, au Miel provides space for heavy reflection: check the deep, classically industrial burbles and soupy reverb of "Only Textures". "Fog ASMR" isn't just a clever name, it's a pretty apt description of the tingling effects of the drones and static which gradually envelop a more squalling initial noise, blanketing raw agitation in a mist of death, relief, or both.
Solar Return manages to be both a nerve-wracking listen and a deeply comforting one, no mean feat for a lean twenty-five minutes. au Miel's technical ear for solid, engrossing noise is ably matched by their emotional instincts and disregard for limitations of genre or style. Solar Return is deep, soul-touching stuff.