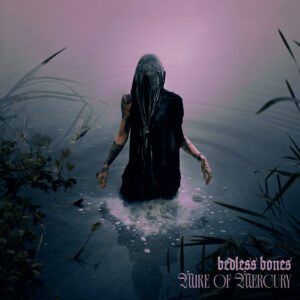 Bedless Bones
Mire Of Mercury
Metropolis
Kadri Sammel's Bedless Bones project felt remarkably coherent and polished when its debut LP Sublime Malaise arrived in 2019. That Sammel was using her chops earned in earlier darkwave outfits like Forgotten Sunrise and Deathsomnia didn't detract from what a breath of fresh air Bedless Bones was, expertly riding the line between atmosphere and melody upon which the genre depends, conjuring a misty otherworld while still offering plenty in the way of beats. Newest LP Mire Of Mercury (and the first new LP to see stateside release via Metropolis) doesn't deviate hugely from that initial impression, but makes some minor adjustments in production and arrangement which serve to bring Sammel's specific vision for darkwave into focus.
Listeners familiar with previous Bedless Bones records will likely notice the uptick in a production style on Mire Of Mercury which is far more ethereal and gossamer than the body music bounce which was the backbone of much of Sublime Malaise (while not nearly as bright or rave-focused, the recent shifts made by Zanias on Chrysalis are a somewhat fair comparison). If you check back to 2021's Bending The Iron Bough you can hear many precursors to Mire Of Mercury's sound, though on the latter Sammel seems to have zeroed in on some of the more ineffable qualities of her vocals; Mercury In Mire's instrumentation seems specifically designed to blend and find equanimity with vocal timbre.
That sense of Sammel writing and producing to suit her own talents can perhaps be extended to Mire Of Mercury offering a clearer sense of Sammel's particular tastes. The tituarly accurate "Uncomfortable" hovers in an uneasy position between the wary earthiness of early SDH and the hypnotic weave of millennial club darkwave, while the combination of sampled strings and rubbery kicks which open "Homeostasis" similarly hearkens back to any number of darkwave club classics, but the watery and ephemeral delivery of those sounds places them in a distinctly modern context. "Tongue And Rhythm" links the last couple of decades of broader Scandinavian pop and electronics with the sort of heavy jig which has been tapped by umpteen goth and darkwave acts with a pagan bent.
In short, the linking of current, cross-genre production with some of the fundamental elements of darkwave puts the latter in clear relief while making the former feel far more organic, rather than the mere product of happenstance or DAW updates. Form and content come together wonderfully on the record, and Sammel continues to emerge as a distinct and commanding presence on the scene. Recommended.