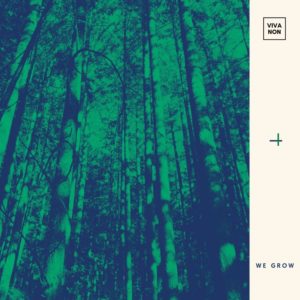 Viva Non
We Grow
self-released
Winnipeg's Viva Non trade in a style of synthpop that's both gushingly excessive yet also strangely terse and cryptic. While the emotional immediacy of the Pure and Shaping Dust And Our Autonomy records was undeniable, their brevity and haziness kept them somewhat occluded. New release We Grow doesn't eschew those qualities, but its musical brightness and variety across a deceptively short run-time does well by its title.
Starting with the devotional slow-build of lead track "Go On"'s synth chimes and xylophone and the restless sunset pulse of "Rise", We Grow puts its melodic side forward in clear and direct fashion. It's not necessarily an anthemic record in the mode of so many grandiose synthpop acts before them – Viva Non are still very much keeping their indie and punk influences up front – but in the fashion of Body of Light and Sex Park they're working in just enough hooks to augment a still somewhat austere (if now squelchier) palette.
While consistently melodic and upbeat (and again brief, clocking in below twenty-two minutes), We Grow manages to keep its tracks distinct and add a good amount of variety: compare the insular and self-explanatory "People Say A Lot Without Substance" with the zip and idealism of "Be". "Grow", a closing collab with French producer and guest spotter extraordinaire grabyourface has a speedier Balearic beat yet with a rather Eno-ish cast, feeling more like a one-off track appended as a bonus but still adding some pleasant depth.
In considering Shaping Dust And Our Autonomy I noted the limits of front-man James Hofer's vocals. We Grow does a nice job of course-correcting in that regard, with Hofer writing to his range and picking his spots when it comes to the bigger vocal moves. Viva Non sounds like an act with a newfound confidence here, and are more than capable of putting themselves in their best light while showing off a newfound melodic ease.