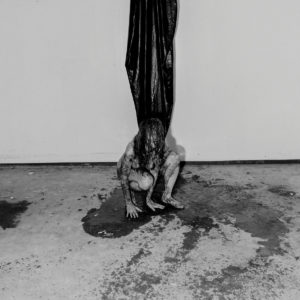 HIDE
Interior Terror
Dais Records
Interior Terror is the most difficult release yet from HIDE, and that's saying something. The Chicago-based duo of Heather Gabel and Seth Sher's two preceding records of stomach-churning mechanized sound were certainly no walk in the park – Castration Anxiety and Hell is Here dealt with misogyny, illness, and mental and sexual abuse in unflinchingly harsh fashion, with a stomach churning electronic soundtrack as accompaniment. But the new LP is something else entirely, largely abandoning the vestiges of traditional song structures in favour of head-smashed-in sound design and amplification of Gabel's already deeply unnerving vocalizations.
It's an increase in discomfit certainly, but the change in HIDE's posture is a lot more than that. You can still find the grinding industrial rhythms that defined their sound and provided an accessible entryway into their work, but they've been stripped of any pretense of relief. "Nightmare" starts with a metallic banging rhythm and screeching samples that promise a taste of stomp-it-out catharsis, but as Gabel spits out "The pain is neverending" the track crashes suddenly into tense drones, never allowing the release to take place. "Spit" has thudding kicks that form a recognizable rhythm, but keeps the intensity of Gabel's voice and the layers of rattling percussion and grinding electronics at an even keel, creating a forced tension that never climaxes or subsides.
As with so much of HIDE's material, it's Heather Gabel's force of personality that elevates Interior Terror above musically comparable power electronics and death industrial records. Hear her on "Daddy Issues"; she reads a statement from the father of teen rapist Brock Turner before spitting his repulsive "a steep price to pay for 20 minutes of action" back in an ascending screech that ends with a disgusted, sobbing howl. And while that kind of wounded fury is in no short supply ("Flag" and "Do Not Bow Down"), it's accompanied by a palpable sense of exhaustion, as on "Price of Life" as she intones "I can't take this/I'm covered in blood" over and over with increasing desperation. The penultimate number "Laff Track" is little more than a few minutes of fatigued laughter backed by drones, but says it all: after you've already screamed yourself hoarse figuratively and literally, what else is left to let out?
We've often said that HIDE truly clicks when you see them live; that it's the deep intensity and discomfort of watching Gabel and Sher as they perform their music that makes you understand where it's all emanating from. Interior Terror might be the first time one of their records has fully captured that livewire sense of unease and confrontation. Despite being their least accessible sonically, it offers the truest, most undiluted portrait of who HIDE are as artists and the deep well of antipathy and righteous disgust that fuels them.