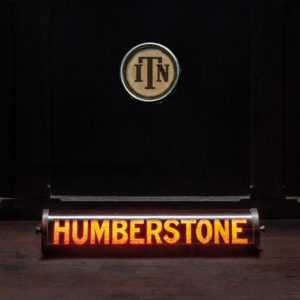 In The Nursery
Humberstone
ITN Corporation
The opening track of Humberstone, the first new studio LP from In The Nursery since 2017's 1961, contains a subtle clue as to how to possibly frame the last few years of work from the eponymous Humberstone brothers, Nigel and Klive. Amidst the flurries of martial drums and tense string vibrato (ie, the exact sorts of elements which likely come to mind when one thinks of much of the brothers' four decade career), there's a simple, sober, but very clear bassline in "H21 Émigré (The Dressmaker)" which hearkens back to the group's earliest post-punk incarnation. That link between the Humberstones' origins and their broader musical accomplishments is a fitting motif given that the entire record is meant to function as a series of musical reflections on specific moments in their family history.
Humberstone's precursor took a similarly historical view, with each of its pieces being based upon a world event which coincided with the year of their birth. But the moments documented on this records are of a much more personal nature, as evidenced by the album booklet which essentially takes the form of a family photo album, capturing the people or places in Nigel and Klive's family tree which sit behind each piece. While the horrific nautical disaster which inspired "H21 Émigré (The Dressmaker)" is discussed in detail, and there are a few comments in PR copy about the origins of other tracks, it can be a rewarding experience to simply look at the images provides and imagine links to the pieces they index. Does the beautifully tranquil and autumnal downtempo of "H57 Cookham Stone (The Painter)" speak to a specific painting or their memories (or imaginings?) of that relative's personality? Why does "H31 Redpits (The Gardener)" have such a thrashing and rocking bassline when it seems to point to such a pastoral theme?
Speaking of basslines, as mentioned earlier, In The Nursery seem to be more explicitly re-integrated traditional rock instrumentation into their neo-classical toolkit of late. Whether or not that's the result of their recent excavations into their own early history, the rock elements which began to resurface in 1961 are given a good amount of space on Humberstone. The band's strident approach to post-punk has never totally disappeared from view, but is juxtaposed with their orchestral talents in a range of ways, from the aforementioned "Redpits" to the dusty beats and twangy strums of "H43 Ektachrome (The Animator)" to the addition of post-punk bass to the spaghetti-western drama of "H58 Centrefire (The Gunsmith)".
For decades, the Humberstone brothers have won acclaim and fans by drawing listeners back to other times and places, either real or imagined, both through their soundtracking of classic cinema and through original compositions which can't help but invite speculative reverie (as we recently discussed). Embarking on that same sort of journey through their own history, either rediscovered or imagined, has to have been a singular pleasure for In The Nursery, and thankfully delivers both intensity and beauty to those of us just along for the ride.