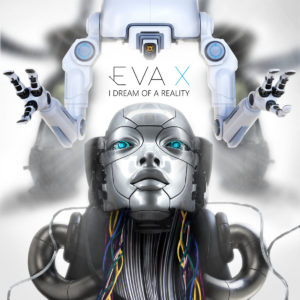 Eva X
I Dream of a Reality
Distortion Productions
We've had the opportunity to see Vancouver based project Eva X a few times this year, and in each case our feeling was that Gabrielle Gustafson's one-woman project was at the point of development where being in front of a crowd was a necessary step in finding what works for her musically and performance-wise. Debut LP I Dream of a Reality falls in line with that journey; there are songs with recognizable melodies and style, and despite some less-polished moments, Gustafson's performance on the record shows growth in terms of her vocal ability and how she conveys her artistic persona.
Eva X inominally makes music in the trad goth-industrial club electro style with some modern production touches, occasionally drawing on broader dark music styles. A track like "Body Talk" best showcases the potential of the project, Gustafson's voice, while occasionally strained on stage, sounds at home in the mix of fuzzy bass, guitars, programmed drums and layers of synths that alternately provide brassy and ethereal textures to the proceedings. While it could be structured to punch the hook home with a little more juice, it's a fine club song that has its own identity. Similarly the pleasingly minimal slowburn number "Hear the Silence" allows a lot of room for Gustafson between its piano lines and slowly building arrangement, emerging into an impressive orchestral swell, and the riff-driven pop-metal crossover track (a la The Birthday Massacre) "Tear Down these Walls" have a lot of personality and and make some interesting choices in their construction.
There are still some moments where inexperience and awkwardness are apparent, usually on tracks that feel like they're reaching for something stylistically they can't quite nail. Opener "Whipping Girl" has a Kanga-esque pop-industrial vibe with pumping side-chained synths and big kicks, but is hobbled by a momentum-killing pre-chorus and vocal processing that obscures Gustafson's performance more than it enhances it. "Machine" falls victim to the same issues, a song that has component parts that work but has trouble cohering arrangement and performance-wise. Conversely the minimal "Your Kind" sticks to a sparse assembly of bass and drums that have some fun grit and grind to them (along with a fun and unexpected guitar solo and percussion break), but Gustafson's singing on the chorus doesn't quite have the power to sell it, leaving the song flatter than it could be.
It's important to note that these aren't fundamental issues with the songs on I Dream of a Reality; moreso they're indications that Eva X has ideas and ambitions, and is still working on ways to achieve them. There's certainly enough here of value to keep an eye on Eva X for further development and growth going forward.