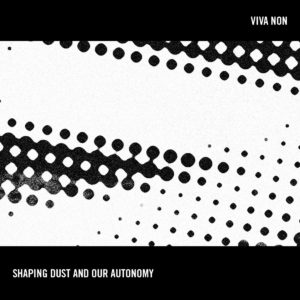 Viva Non
Shaping Dust And Our Autonomy
Negative Gain Productions
From Continues to Cold Cave, over the past decade there's been no shortage of raw and impassioned synthpop which borrows as much from hardcore punk's declarative and confessional ethos as it does the more arch names commonly associated with the history of the genre. Using synthpop to simultaneously convey vulnerability and strength, then, isn't necessarily reinventing the wheel, but it's still an approach which allows for a lot of individual expression while still delivering hooks. On their second LP, Winnipeg's Viva Non dish out breathless narrative and imagery atop sparkling synth sketches.
Debut release Pure on Dub Ditch (the same label which brought us sole member James Hofer's earlier work with Will To Power) offered a much more bright, dense, and, well, happy brand of synthpop than the moody and recalcitrant compositions which hold sway on Shaping Dust And Our Autonomy. While replete with beats and melody, the tracks here almost seem uncertain about imposing themselves too much, lingering at the doorway for a moment before vanishing. With all but two of the ten tracks clocking in below three minutes, none of Shaping Dust's medium-tempo pulsing tunes ever wear out their welcome.
As a result of this brevity, the naked and wearily impassioned deliver of Hofer's vocals swiftly becomes the calling card of Shaping Dust. The brusque self-evaluation of "Nihilistic Sun" and the utopian daydreaming of "To Breathe" work in Hofer's favour at the top of the record, but his somewhat limited tonal range begins to yield diminishing returns midway through. "To Sing" and "Calming To Rioting" both find Hofer gulping the same notes and the repetition occludes the actual characters of the songs. Thankfully, things right themselves on that score towards the end, with the simple but emotionally punchy melody of "Killing Time" providing a late-album highlight.
Parallels can be found with Cold Cave or fellow Winnipeg act Kindest Cuts, but the closest contemporary comparison to Shaping Dust I could make would be to Body Of Light. As with the Arizona duo's latest (and most accomplished) work, Viva Non spin out immediate and well-honed synthpop before electing to chip away at the polished veneer of their compositions. Whether through abrupt endings, unadorned diatribe, or lo-fi charm, Viva Non make a virtue of imperfection.