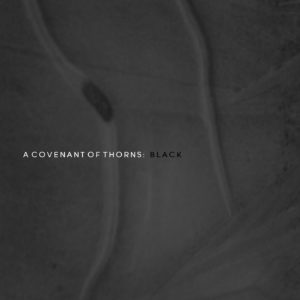 A Covenant Of Thorns
Black
A Handful Of Nothing
The reemergence of dark synthpop act A Covenant Of Thorns was an unexpected treat during the closing days of 2018 with the release of Shadows & Serenades. David-Scott Allen has spent decades honing a particularly melancholy style of songwriting with just enough dreamy lift in his programming to keep things from ever becoming too dour. Black feels like a worthy direct sequel to Shadows & Serenades, walking a line between lithe pop and introverted brooding.
As with Shadows & Serenades, Black's immediate appeal lies in Allen's vocal presence. From the winsome pining on "Numb" to the stark psychological excavations of "Choke", he's always able to find the delivery a particular composition calls for and just how much melody his weathered and resonant voice needs to carry. There's similar balance in the subject matter: "Seconds" laments time wasted in repetitive club life (though boy howdy even the shallow goth club Allen describes sounds like heaven after nearly a year of lockdown), while "Choke" points to the dark but realistic experience of resenting someone for understanding you too well.
Musically, Black is a record with subtle but lasting charms. The simple construction of the pulsing programming of "Numb" will be immediate and familiar to anyone who's spent any of the past two decades digging into synthpop, but Allen's canny ear for harmonics turns it into just the sort of hummable nodder that gets stuck in the corner of your head for weeks on end. The bounce and timbre Allen works into his sounds ensures that even the gloomier tracks are shot through with veins of bright, metallic colour, as on "Safe & Sound" and "Transgression".
Allen's style, as Shadows & Serenades proved, is the result of decades of study of dark synth music of all stripes. While it was possible to pick out individual influences in his earlier work, Black stands on its own merits, with Allen's aesthetics and thematics coming across as the result of dogged self-refinement, and the pursuit of honest expression.