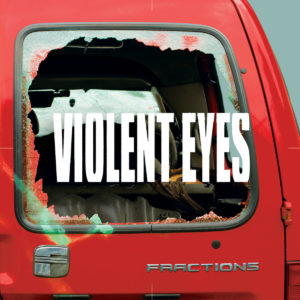 Fractions
Violent Eyes
Fleisch
We may have hit the point of diminishing returns in the realm of techno/EBM crossover music; as the style has risen in popularity over the last decade, we've also seen a preponderance of producers jumping on the bandwagon without bringing anything new to the table. Prague-based duo Fractions have bucked that trend in a big way since their debut EP in 2018, utilizing a direct formula. Simply put, Fractions understand the power of a big body music bassline, and how to center it in their tracks to create the grooviness that so many of their peers forgo.
Their debut LP for Berlin's Fleisch Violent Eyes has Fractions leading with their strengths. The title track and opener should tell you most of what you need to know about their work; a straightforward but insistent bass sequence feeds into some swinging drum machine programming, enhanced by thudding toms, funky cymbal patterns, and murky synth textures. It's a straightforward example of the project's style but an effective one, establishing a template that Fractions can iterate on in ways both subtle and overt.
Big departures are easy to spot: check the breakbeat breakdown on "Loneliness (is the Killer)" (a style they experimented with heavily on 2019's Constellations), or the acid inflections on "Body Limit" that pull the track in a more explicitly techno direction. Less obviously, you can hear nods to the sort of 90s soundtrack electronica Fractions have acknowledged as an influence on the thick blurry synths that inform the groove on "Neuromediator", and a slight de-emphasis on bass and drums "Pleasure Frequency" to align with the guest vocal from Fleisch boss and patron saint of body-influenced darkwave Zanias. They're variations that are clever and intriguing, and don't read as major departures from the core sound of the LP.
With all that said, Violent Eyes can be a bit exhausting to listen to in a single sitting. The tempos are high and every track seems geared for potential dancefloor action – less of an issue when the band were doing exclusively EPs, but the long play format means some of each track's individual charms can be lost in a single 47 minute sitting. Still, given the quality of its component parts it's a record that earns replays and deeper examination. Fractions know what makes them unique in a sea of similarly minded producers, and that clarity of vision and focus shows.