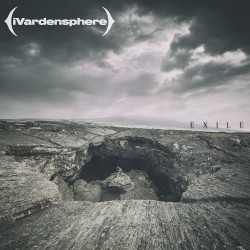 iVardensphere
Exile
Metropolis Records
It feels as though we've been writing "the evolution of iVardensphere" pieces since we opened our virtual doors here at I Die: You Die. True, the progress of Scott Fox's tribal industrial project has been a treat to watch, but it feels a disservice to Fox's work in the here and now to keep telling that story. Odds are, if you're reading this, that you've had some exposure to iVardensphere and may have a good grasp of what makes new iVardensphere releases such a treat: Fox's sound design is always on point, he's able to wield it to turn out compositions in a wide range of styles, and he has a preternatural ability for tagging in collaborators at just the right time. Sixth LP Exile ably ticks all of those boxes off.
Predominantly instrumental, it's difficult to ferret out a uniting theme to Exile. And while having a particular sonic or conceptual thread to hold onto made The Methuselah Tree a stronger record, Exile offers a lot of fun just by virtue of how well its individual elements stand on their own. Exile feels like a release which allows Fox to both stretch his creative muscle in a variety of directions and go hard in the paint with heavier, club-oriented tracks. The combination of classical guitar and horns which opens iVardensphere's take on the theme from Westworld brings In The Nursery to mind, but the tightly compressed mesh of kicks and squelches which takes over has nothing in common with neo-classical work. Following that number up with the full-bore metallic rage of "Thin Veil", and then the echoing, hypnotic slow burn of "Rhogog" makes for a whirlwind tour of the sort of sounds which are being mined on Exile, but strangely the shifts in tone from track to track bring the strengths of each into clearer focus. Later, "Seven Gates" has its cake and eats it too, with a tour-de-force of cyber klaxons and fleets of strings attacking in perfect harmony.
As I mentioned earlier, stellar sound design's become one of Fox's calling cards, and that's another area where Exile's free-form spirit pays off. Each of the wheezing, clattering, and grunting elements of "Grounder" seem to be constantly reorganizing their own relation to each other: drifting apart into their own spaces and rhythms before being drawn back into closer concert with each other in the mix, with the arrangement of the track taking on the operations of a lung. The dense textures of the aforementioned "Thin Veil" couldn't be any more different. Grimy and scraping, they're pressed right against the listener's ears alongside the equally gravelly bark of recurring iVs collaborator Jamie Blacker, who at this point really should be the first call of every producer who wants to terrify and intimidate their listeners into lockstep.
I realize saying that Exile has a more casual or disarming delivery than previous iVardensphere releases sounds like a back-handed compliment, but it should be taken more as a marker of how comfortable Fox is with each of the different forms and styles he's turned his project to over the years. Exile doesn't radically overturn one's understanding of what iVardensphere is or sounds like, but it serves as a wonderful reminder of all of the reasons why we've been tracking its development over the years.