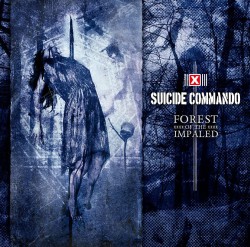 Suicide Commando
Forest of the Impaled
Out of Line
There's no getting around it, Forest of the Impaled squanders a lot of the good will Suicide Commando's Johan Van Roy has accumulated over the last couple of years. Where 2013's When Evil Speaks and the various reissues and compilations of early tracks that have been released since seemed to suggest that the long-running harsh EBM project was interested in moving back towards the Klinik-indebted dark electro of their earliest incarnation, the new LP wallows in some of the worst of Van Roy's artistic tendencies. It's a doofy record most of the time, and disappointing because it has moments that suggest it could have been something more.
Perhaps the best indicator of where Suicide Commando lost the plot on this outing is the project's remake of 1991's "The Devil". Where the original is a not especially memorable but still charming lo-fi instrumental, the version here is propped up with extensive additional programming and percussion and vocals, none of which its foundations can support. It meanders around for a bit and then stops with no fanfare, begging the question: why resurrect a more than quarter century old song and then do nothing with it? One really starts to question if Johan's recent focus on his history has less to do with rediscovering his roots and more to do with being out of ideas.
That thesis is borne out by the majority of the songs on Forest of the Impaled. "My New Christ", "Too Far Gone", "Chasm of Emptiness" all have the big drums, big pads, and harsh vocals of modern Suicide Commando, but feel listless, collections of programming casting around for a hook of some kind. Opener "The Gates of Oblivion" (featuring a guest vocal from Psyclon Nine frontman/modular synth pitchman Nero Bellum) starts off like it might deliver on the goofy black metal tropes of the LP's title and cover artwork but quickly devolves into a straight and unremarkable harsh EBM number that its double time closing section can't redeem. The most energetic moment is Jean-Luc De Meyer collaboration "The Pain That You Like", which musters a serviceable four on the floor rhythm and chattery sequence of stabs. Tellingly, it was originally released as a standalone single two years ago. Even at his most creatively staid Van Roy has always had energy and commitment, and that's what so many of these songs lack.
Frustratingly, there are moments of real promise that don't quite develop into full-fledged songs. The rubbery bassline and crunchy percussion at the outset of "Death Lies Waiting" grabs the ear, but they aren't put in service of anything and the song ends up grinding to a halt before it even gets going. "Crack Up" manages some solid classic electro-industrial programming but lacks a chorus to really make it stick. Of the album's eleven songs "Schiz[o]topia" is probably the most defensible, a solid vocoder ballad of the type Suicide Commando has done well in the past. It's not enough to redeem Forest of the Impaled though, and contributes to how inessential all this seems, a record that for all the world feels like it's fuelled by obligation more than by inspiration.