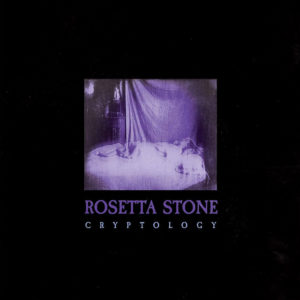 Rosetta Stone
Cryptology
Cleopatra Records
The reemergence of Rosetta Stone has been a welcome but slowly building development. The surprise announcement last year of a new LP under the name, sworn off for so many years (along with goth qua goth)  by core songwriter and performer Porl King, was somewhat mitigated by the realization that Seems Like Forever was comprised of re-recorded material originally released by King's miserylab project. If Seems Like Forever was a testing of the water, an attempt by King to find equilibrium between the different periods of his work, Cryptology is a grander move. The first LP of original Rosetta Stone material in 25 years, it's a reckoning with the past and future of dark rock, King's place within it, and its salience to the ongoing nightmare in which we're all trapped.
What's perhaps most exciting about this record to long-time listeners like myself are the ways in which King's been able to fuse core Rosetta sounds not only with his own interim miserylab work, but also with recent developments in goth and dark post-punk overall. Almost entirely bereft of Sisters-isms (which RS were never as guilty of as many of their lesser 90s peers), Cryptology feels like King reacquainting himself with the broader sounds and moods of goth rock from across the spectrum. The lithe and doomed minimalism of Forever Grey is suggested by the icy unfolding of "Valiant Try", and I'm getting a whiff of Cold Cave tilting to their most darkwave side on "In Black". Similarities to the likes of Double Echo, Terminal Gods, Twin Tribes, Lebanon Hanover, and countless other current acts who likely drew direct inspiration from early Rosetta Stone records can be found sprinkled throughout. Although this is definitely King working within a goth milieu, it's not the sound of him attempting to recreate his old sounds nor feigning ignorance of how things have moved on since the late 90s.
Thankfully, you don't need to approach Cryptology as a po-faced goth trainspotter to enjoy it. Marrying the stripped-down instrumentation of miserylab with some nimbler guitar work ends up making for some damned snappy tunes. The simple, swirling melodies of "Smoke & Mirrors" has all the charm of any goth or peace punk anthem you'd care to name, new or old. And despite the often minimalist instrumentation, there's some serious rock weight behind the drive and pulse of Cryptology's tracks, perhaps suggesting Killing Joke and the Lorries.
King's also made some slight adjustments to his vocals: the breathy desperation in "Valiant Try" and "With This [I'm Done]" has the same weary tone as classics like "The Good's Gone" and "Come Hell Or High Water", but tempered by age and experience. More often than not, he's using those vocals to address current crises: opener "Shock" reminds us that a nation which has seen the London riots, the Grenfell Tower fire, and Brexit (some of which King directly addressed via miserylab) over the past decade can't now feign surprise at the effects of austerity and racism ("It won't ever happen here…it's happened here"). Even when he's not directly addressing current affairs, there are some interesting overlaps between the personal and the political: the reflective inventory of "I Put It To You" finds King wanting to turn the page on his former musical lives and achievements, but the vague lacunae ("We used to X, Y, Z when we went to…yeah…good times") now connote the futility of pining for the pre-COVID Before Times.
Porl King has brought an incredible amount of personal and musical history to bear on Cryptology (and I'm not even broaching what elements from the smokey and voluminous In Death It Ends project may or may not have filtered into it). Last year I idly hoped that Seems Like Forever might portend "new material under the RS banner which avails itself of King's more recent stylings," and this record does both that while connecting the dots between goth's past and future. It's 2020. Everything is on fire and everything is political, including goth rock, and if nothing else I'm thankful that that includes Rosetta Stone. Highly recommended.