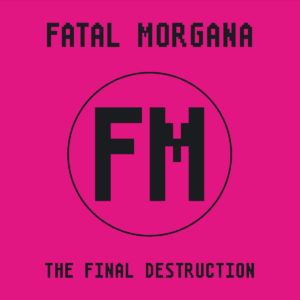 Fatal Morgana
The Final Destruction
Mecanica
What is it?
Fatal Morgana may have been a Dutch duo, but their connection to the sounds of Belgium went beyond member Ad De Feijter handling Dutch business for Belgium's famed Antler-Subway label. In tandem with Ed Smidt, De Feijter's work as Fatal Morgana tapped into the moodier and more dramatic dimensions of Belgian EBM, with A Split Second perhaps being the closest point of comparison. The pair only released one LP and a couple of 12″s between 1989 and 1990 before packing it in, but a new compilation from Mecanica gathers their work, showing off how well it's aged.
What's on it?
The Final Destruction collects all of the tracks from the band's one LP, The Destructive Solution, along with most of the mixes from their 12″s and a comp appearance. By my reckoning, all that's missing from this collection are two mixes and edits almost identical to other versions collated here.
As mentioned before, Fatal Morgana's catalog skews towards a very grandiose, exotic, and at times downright melodic vision of EBM. Between the darkly flanged sample funk of "Lifeblood" or the heavy orchestral drama of "The Innocent Children Of The Cruel World" Fatal Morgana often eschew the more minimal and stripped down side of things, but there's still plenty of straightforward rhythmic tracks. "Mindcontrol" is nimble and propulsive, and between it and the various versions of "Glasnost" which appear here one can begin to hear the beginnings of EBM's cross-pollination with Hi-NRG and other rave-adjacent sounds. Political conflicts and ideologies from across the spectrum are tagged via sampling, often free of editorial comment from the band themselves, creating the sort of cryptic disorientation 242 achieved with the likes of "Commando Mix" and "Funkahdafi".
It should also be noted here that Mecanica's also released a companion EP, The Destructive Remixes, featuring new interpretations by the likes of Nostromo and Imperial Black Unit to connect the line between Fatal Morgana's work and contemporary EBM club sounds.
Who should buy it?
The Final Destruction should appeal to crate-diggers who've found value in Mecanica's previous work reissuing often overlooked EBM releases from the late 80s and early 90s (Blind Vision, Robotiko Rejekto, Flash Zero). Plenty of the material on display fits in just perfectly with the throwback styles of EBM currently in vogue, and the intersections of EBM and other sounds will be of interest to those looking to trace the roots of the current techno/EBM crossover.