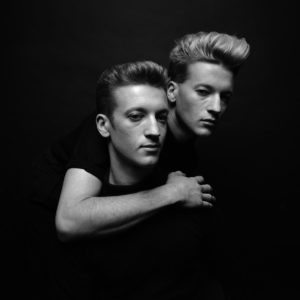 In The Nursery
Twins 2020 Remaster
ITN Corporation
What is it?
Now hailed for their decades of work soundtracking both classic silent movies and recent film and TV, In The Nursery were a raging mix of influences, moods, and execution on 1986's Twins, either their first or second LP depending on how one cares to classify When Cherished Dreams Come True. A new remaster and limited physical repressing of Twins refreshes the combination of martial, post-punk, industrial, and orchestral elements Klive and Nigel Humberstone were bringing together in 1986, guided by modernist art of all stripes, their own self-taught approach to music composition, and the oppressive shadow of Joy Division.
Nascent steps towards their later mastery of orchestral and ethereal sounds can be found in "Judgement Of Paris" right alongside the stuttering samples and industrial clang of pieces like "Huntdown" which would net them Wax Trax distribution (ironically cementing their industrial cred just as they were moving towards the more pastoral realms of L'Esprit). While it certainly functions as a fluid but coherent LP, today Twins almost seems akin to a commonplace book, with the Humberstones revved up to get down as many of their ideas and bursts of inspiration down as quickly as possible, lest they dissipate.
What's on it?
As with the initial CD pressings of Twins, this edition includes the Temper EP released a year previous, and also adds three mixes initially collected on the 1989 Counterpoint comp. Fans of 80s post-punk and the like can't be faulted if they preemptively cringe at the words "2020 Remaster", but thankfully none of the atrocities that the Depeche Mode and Cure catalogs have been subject to are present: this is a very, very subtle remastering job, to the point that it took a lot of headphone and audio setting shuffling to be able to pass a blind test in distinguishing it from the original. If one does care to really dig in, there's some brighter high end and a slight bit of digital granularity (thankfully without the cost of compression, clipping, or even an increase in volume) that actually ends up revealing some minor tape artifacts and the like smoothed over in the original master.
The physical presentation of this reissue also deserves some comment – the Humberstones have been taking a boutique, in-house approach to their back catalog of late, and this time they've supplemented the understated and classy metal tins that have heralded recent ITN reissues with individually numbered wood block prints and reformatted inserts. It's a lovely and tactile way of adding some metaphysical weight to the experience of Twins, though with only 100 copies printed they could very well be gone by the time you're reading this.
Who should buy it?
If you've never made a proper foray into the (admittedly intimidating) ITN catalog, you could choose a far worse starting point than this edition of Twins. Hints of so many of the sounds and styles they'd explore in more depth in the years to come can be found here, and used to plot next steps. Even those familiar with the Humberstones' broader themes and strokes should attend to the distinctly personal tack taken on tracks like "Twins" and "The Outsider" (the Humberstones gradually ceded vocal ground to instrumentals and frequent collaborator Dolores Marguerite C in subsequent years) which directly speak to the bond shared by identical twins which will likely never be fully understood by the rest of us.