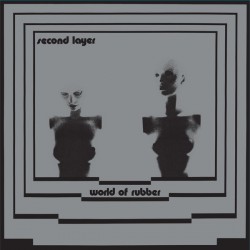 Rubber
Second Layer
Dark Entries
What is it?
South London band The Sound spent a decade banging their head against a glass ceiling to a fiery but ultimately doomed beat. Across six albums and a handful of EPs, vocalist and guitarist Adrian Borland and company delivered high-wire emotion with a raw intensity that would have been impossible to bear was it not delivered in the form of near perfect songcraft. The shadow of Borland's eventual succumbing to schizoaffective depression can't help but hang over the band's discography, but years before his troubles caused the dissolution of The Sound, Borland and Sound bassist Graham Bailey formed side project Second Layer.
Far more occluded and estranged than The Sound, Second Layer's compositions hold a good deal in common with what we now generally sweep into the minimal wave camp, even though electronics are mostly limited to sparse drum programming and the odd sampled squawking klaxon. Rather, Bailey's forward but metronomic bass carries most of the weight, with shearing textures from Borland's guitar. Borland's vocals, so often used to communicate the most personal anxieties (think of song titles like "I Can't Escape Myself") is oddly disaffected and imagistic. Winding but lockstep tunes clip along with this sparse arrangement, occasionally ending mid phrase or being subjected to the sort of odd stereo panning or clipping which likely leads most listeners to think there's something amiss with their headphones. While the odd tune does point towards the sort of churning propulsion The Sound would go on to master (like the relentless "Fixation"), the buzzing dirge of "Underneath The Gloss" is far more reflective of Second Layer's discomfort mechanique.
What's on this reissue?
You're getting the full monty on this Dark Entries set, and the double LP format of the reissue dovetails perfectly with Second Layer's discography. 1981 LP World Of Rubber occupies the first two sides, EPs Flesh As Property and State Of Emergency (1979 and 1980, respectively) take the third, and the fourth is given over to previously unreleased demos. The EPs and demos are far more fractured and experimental than World Of Rubber, and there's a resulting sensation of stability and grounding slowly eroding as one flips across the sides, the music growing ever more unnerving and opaque. I can't speak to the remastering job done by veteran engineer George Horn without a hard copy of the original pressings handy, but I have noticed that some of the older vinyl rips floating about the net haven't been done at the proper RPM, so having the final word on the project's sound is welcome.
As with all Dark Entries reissues, the label's commitment to recreating the aesthetic of the original releases is a mixed blessing. On the one hand there's a fantastic paper liner mocked up to look like a zine of the day replete with grainy photos, interviews and the like which goes a long way in communicating the band's origin and early impact. Dark Entries have done similar cool inserts for Parade Ground and Nagamatzu records, and they're always welcome. On the other hand, their inconsistency when it comes to digital release is somewhat miffing. As lovely a format as vinyl is, it isn't always practical, and surely a DL card in the sleeve is a happy compromise.
Who should buy it?
While the core nine World Of Rubber tracks were on a Cherry Red pressing about six years back (along with a track by Skylon, yet another Borland/Bailey side-project not included here), the majority of this release is going to be fresh listening even for serious fans of Borland's work. The Sound's discography just received a thorough reissue campaign courtesy of Edsel, and World Of Rubber makes for a fascinating appendix. Even those not enamored with The Sound should find plenty of interest here, provided they have an ear for oddball early 80s pastiche and the "rip it up and start again" (as Simon Reynolds by way of Orange Juice put it) aesthetic.