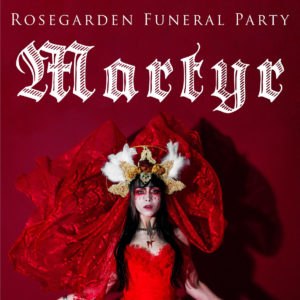 Rosegarden Funeral Party
Martyr
Moon Sounds Records
It's amazing what a slight adjustment in approach can do for a band. Up 'til recently the book on Dallas' Rosegarden Funeral Party was that they were a serviceable post-punk band, drawing influence from classic acts college radio acts like Echo & the Bunnymen and The Smiths. They were good at it, but the material never seemed to really grab hold, in spite of the trio's obvious talents. 2019's Martyr is a different animal altogether, harnessing the remarkable presence of vocalist and guitarist Leah Lane in service of some extremely catchy tunes.
The change in approach isn't hard to discern, from the opening strains of "Fade to Black", a speedy rager that expertly shifts between a rolling new-wave groove and a straight ahead big rock attack. It's a hell of a tune to start a record with and fully communicates what Rosegarden Funeral Party are all about on Martyr, which is rocking out hard without leaving the dancefloor behind. The basic toolset of big basslines, high keening synths and alternately jangly and crunchy guitars are mixed for maximum pop appeal, all in service of some very hooky choruses. Whether it's the speedy "Martyr", the organ-infused "Gaslighting", or the wistful "Streetlights" no song present lacks for a memorable melody.
All of which is to say that these are good songs, but the thing that really sells them is Leah Lane's exceptional voice and delivery. While the immediate comparisons – Siouxsie, Chrissy Hynde or Johnette Napolitano – are easy to peg, she's got a very distinct charisma of her own that shines hard when she leans in on a song. You can hear it clear as day on the verse to chorus transition of "AMC" or in the way she imbues the twinkling "Pills" with a potent mix of emotion; when she sings "Haven't you taken enough of those pills to know better by now?" it perfectly communicates the song's mix of longing and disappointment. They're songs that make you want to listen to them again when they're over, and no small part of that comes directly from Lane's force of personality.
As a general mix of new-wave and vintage alternative rock sounds Martyr delivers across the board, energetically and with conviction. It's a gem of a rock record with just the right amount of goth DNA threaded into every number, and should appeal to those seeking something catchy, lively and heartfelt.