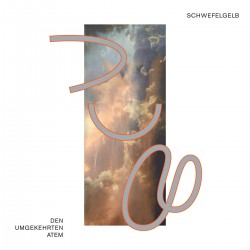 Schwefelgelb
Den Umgekehrten Atem
Fleisch
I am constantly needing to be reminded that Schwefelgelb have been around for more than ten years. Admittedly this is because their earlier material (that in fact makes up the bulk of the band's releases) is fairly different from the sound that have made them a name to follow in modern industrial circles, the punky electro and synthpop of their 2007-2013 period having been superseded by relentlessly arpeggiating basslines and thudding EBM drums. Sid and Eddy are part of a handful of millennial electronic artists who went beyond merely referencing body music and developed a full-bore hybrid sound that slots perfectly into the current wave of artists exploring the shared landscape of techno and EBM.
Although they've certainly found a format that works for them, new EP Den Umgekehrten Atem demonstrates that Schwefelgelb aren't standing still creatively. The compulsively danceable sequences and raw textures that have been the key to their success are still present, but it's the ways in which they're expressed that feel like they've been given a subtle but effective overhaul. Opener "Im Wasser" has those whip crack snares and cranking bass accompanied by delayed vocals and random blasts of synth noise, but there's a certain smoothness in the addition of a crystalline lead midway through the track and the sampled congas that add complexity to the rhythm programming. Conversely "Das Ärmellose Hemd" begins with the deeply filtered menace of a classic D.A.F. joint before unfurling a whirling array of tones and drones that add texture between the drum hits.
Despite those new sounds, it's worth noting that Schwefelgelb avoid the trap of overproduction. "Um Meine Haut" has plenty going on over the course of its five and a half minutes, but the contracting and expanding reverbs and modulating synthlines are mixed in ways that give the track movement without adding unneeded complexity. The choice to leave the grit intact on "Stillhalten"'s tactically deployed cymbals cuts paths through the syrupy saturation that bathes the rest of the song. It's not so much "less is more" but about maximizing the elements they do include for impact and impression.
Listening to the new release back to back with their previous effort for Fleisch, 2016's Wie Die Finger Durch Den Nebel reveals growth but also a canny sense of self-awareness. It's clear that Schwefelgelb know the kind of new school body music people expect, and haven't tampered with what has made their recent output so essential. They have found a few interesting ways to expand and refine it though, and that has made their music all the more engaging.