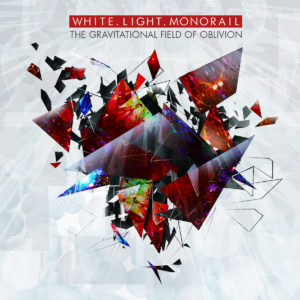 White Light Monorail
The Gravitational Field Of Oblivion
Grey Sky Recordings
The second album from Tyler Newman and Paul Savio's White Light Monorail project could either reacquaint or befuddle erstwhile listeners of the pair, depending on when the last time they checked in. While Newman has shown off his chops at more varied scene-adjacent sounds in the past few years with his Zonekiller (soundtracking) and negative_crush (post-rock) projects, his work with Savio as White Light Monorail more clearly refers to the electro-industrial roots of their previous incarnation as Battery Cage. But while there are plenty of passages on The Gravitational Field Of Oblivion which ably recall Battery Cage's core influences and stylings, it's the way in which brighter melodic elements are woven in which allows the record to shing.
Don't let the prismatic and spritely coloured cover art totally fool you: plenty of The Gravitational Field Of Oblivion is of a kind with Battery Cage's slickly produced but often chugging electro-industrial and industrial rock. Check the seething use of mid-period FLA (or early Haujobb, if you prefer) markers on opener "Oblivion", or the classic American coldwave of "Silence Transformed". But more often than not those heavier moods are crosshatched with lithe melodies and clever harmonics which have been worked into the corners or are given free rein to run amok. Post-rock, downtempo, and synthwave are all used to add colour here and there, though sampling may be the record's not so secret weapon, with Bollywood and Fever Ray being drawn into "Babul" and "Airwaves", respectively (I can't speak with complete certainty to the U2 samples I think I'm hearing on "Frozen Fire").
It's just as fast-moving a record in terms of emotional colouring. While there's plenty of bile in the vocal tracks, the bubbling warmth and joy of the synths which comprise "Rods and Cones" or the chopped-up micro-rave of "Falling Apart" can't be denied, nor can the irreverence which crops up throughout. The use of classic Internet detritus (Fensler Films' infamous G.I. Joe clips on "Oblivion") might seem at odds with the earnest and affecting feel of most of the music, but that's really par for the course when you're talking about a project who had a track called "How Is Babbylon Formed?" on their previous record.
Battery Cage fans will likely be happy with the at hand "return to form" sounds on The Gravitational Field Of Oblivion, but for my money the real art in the record lies in how Newman and Savio have blended in the much broader range of sounds and moods they've been trading in in the interim. Recommended.