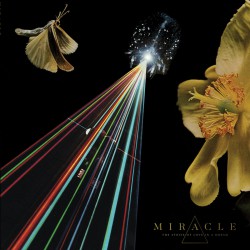 Miracle
The Strife Of Love In A Dream
Relapse Records
Dark synth duo Miracle sounded incredibly developed upon arrival in 2011 with their Fluid Window EP, and with good cause. Between Daniel O'Sullivan's work with the likes of Ulver, Æthenor, and The Big Pink and the path forged by Steve Moore's other project – psych-heavy italo/kraut hybrid Zombi – Miracle certainly had the right resume to make a stellar first impression. But it wasn't just the songwriting or production Miracle brought to the table which impressed. A cryptic yet urbane and sophisticated ethos seemed to guide every move the pair made, a mood which carries through a range of sounds and styles on their stunning second LP, The Strife Of Love In A Dream.
The nexus of gnostic and science fictional subject matter Miracle explore is apparent from the record's first moments. "The Parsifal Gate" gives a nod to Vangelis' Blade Runner score while delving right into medieval grail literature, but time and again on Strife Of Love similarly obscurantist themes are delivered with soulful panache. The elegance of O'Sullivan's vocals gliding across the simple yet shimmering arrangement of "Sulphur" points to a gilded world in which passions for alchemical esoterica and Roxy Music aren't mutually exclusive. Even in more forthright and rocking moments (lead single "Light Mind" brings the high points of Ladytron's Witching Hour to mind), Miracle are simultaneously connoting space opera and haute couture. I've seen more than a couple of Depeche Mode comparisons being lobbed about, but those feel off to me. While yes, you could find some surface resemblances in some of the vocal layering or the general tastefulness of arrangements, the mood of a tune like "The Seventeen Nineties" is very far removed from DM's interest in the airing of private impulses. Rather, the kosmische pedigree of Miracle finds them forever pursuing arcana, secret histories, and astral truths and being transformed in the process. Between the singularity of this vision and the guiding thread of O'Sullivan's voice, The Strife Of Love In A Dream retains a striking aesthetic unity even as it rotates between ostensibly pop, rock, and ambient forms.
The record's release on Relapse feels like a poetic inversion of the graceful tightrope act Miracle themselves execute; the label's always been just as handy with experimental electronics (S U R V I V E, Ghengis Tron) as no-frills metal. Miracle might not seem to have much in common with labelmates like Toxic Holocaust or Dying Fetus, but in the same way that a little black dress always fits in, something about Miracle's smooth but fathomless style transcends genre snobbery. Marked by an uncanny gravitas which can't be faked, The Strife Of Love In A Dream is as dark and portentious as it is classy and refined. Strongly recommended.