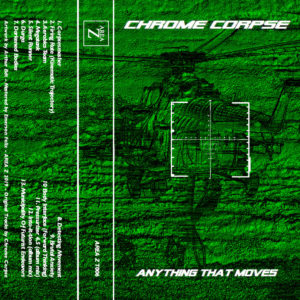 Chrome Corpse
Anything That Moves
Area Z
Anything That Moves is the LP that Seattle-based body music act Chrome Corpse have always had in them, and have been working towards since their earliest tracks hit the web a few years ago. Part of it has to do with how this record solidifies the band's identity. While previous releases experimented with various industrial styles up to an including pure noise (as on the self-titled 2017 LP), their current incarnation – made up of founder and leader Michael F Ninethousand, Jimmy Shogren and vocalist Anton Hirnsturm – has zeroed in on old-school flavoured EBM that hits hard, and maintains the band's sense of energy and exuberance.
Made up of new material and versions of tracks from some of the band's many EPs, the album shows an admirable sense of focus in terms of style and execution. Songs like "Firing Rate (Kinematic Trajectory)" and "Durga" play well as straight old school EBM, with their clanging percussion, cycling bass grooves and growled vocals landing right in the sweet spot where they feel honest and reverential instead of clichéd. A goodly portion of the band's charm is in how they subtlty differentiate themselves from their influences: the FM bass sound on the fantastic mid-tempo number "Silent Runners" conjures 242, but the song's ratatat snares, big synth builds and doubled melodic and growled vocals give it a stature and carriage that feels unique to them.
Still further goodwill is earned via the band's already established quirky sensibility. "Aerobics Team" invokes the classic body music tropes – muscles, sweat, movement, combat – but juxtaposes them with the distinctly not-aggro image of synchronized exercise routines. "Brutal Anxiety" directs the record's tension and movement into self-flagellation; the exhaustion and violence it describes is entirely of the mind rather than the body. By the time you get to the electro-pop tinged closer "Municipality of Futurist Endeavours" Chrome Corpse have established their capacity both for classic genre thematics and inversions thereof.
The ridiculous rate at which Chrome Corpse has released music over the last two years was admirable, but also left us wondering if the band was saving anything for a real album experience, or if the format actually held any appeal for them. Whether or not Anything That Moves is the template for all of Chrome Corpse's music going forward, it's bracing to hear them engage with the long-player format with such acumen. At its best (which is a significant portion of its runtime) it takes classic sounds and ideas and renders them in a fashion that feels new and energized. Recommended.