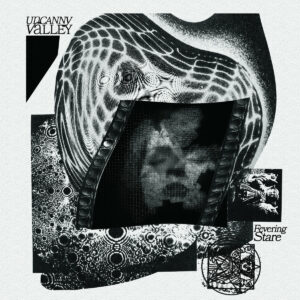 Uncanny Valley
Fevering Stare
self-released
Uncanny Valley's demo was released way back in the before times of 2018, only to be finally followed up with the Calgary quartet's debut proper this month. Whether or not that layoff was COVID related, the iteration of the band put to tape on Fevering Stare is a tight post-punk machine, with gothic excess, new wave melancholy, and melodies for days.
Emerging out of the more synth-driven Aiwass project, Uncanny Valley's style is strident, speedy, and bracing, but makes a point of working echoing guitar hooks into every corner and giving each track as much dimension as possible via synth pads. The increasingly melancholy yet anthemic direction in which Spectres have been moving over the past few records seems as good a touchstone as any, but Uncanny Valley are clearly drawing upon earlier influences as well. The flashing, bright guitar riffs on "Puppet" brings the deft and clarion work of Skeletal Family to mind, while threads of various turn of the millennium Gold Standard Labs acts can be found in the record's linking of new wave and goth on the other side of post-hardcore.
Short track lengths and a constant flurry of drumming ensures that the listener's mind never wanders while Fevering Stare is on, and were there to be any risk of that, the spotlight given to vocalist Alicia Palmer would quickly halt it. It's an alternately commanding and yelping performance which infuses tracks like "Mariana's Web" and album highlight "Hard Eyes" with the sort of drama so many modern bands taking a page from the earliest chapters of goth are often lacking. Those hearing a good amount of Siouxsie in Palmer's swooping delivery aren't half off, and paying a closer ear to the lyrics reveals a fixation on similarly grim and nihilistic themes which belies the controlled elegance of their execution.
At less than twenty-five minutes, Fevering Stare might push the strictest definition of an LP, but with each of its eight tracks tightly dialed in and delivering in spades, it's an exercise in quality over quantity. Here's hoping some touring outside of Alberta is in the band's future, as Fevering Stare captures a band who sound hungry and road-ready. Recommended.