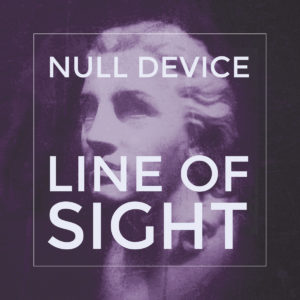 Null Device
Line Of Sight
Distortion Productions
Wisconsin's Null Device are proof positive that synthpop is a far more nuanced musical style than most of its die-hard recreationists or recent converts often take it for. Seventh LP Line Of Sight is very much a continuation of 2016's heartfelt While You Were Otherwise Engaged, and if anything finds an even more affecting blend of direct songwriting and elegant arrangement. By availing themselves of whichever sounds from synthpop's now substantive archive suit the song or mood at hand, Null Device have crafted the rare record which has a minutely calculated style of production and instrumentation but still puts core songwriting first.
Pre-release track "The Smallest Thing" pointed towards a sober and contemplative style which we expected to be carried forward on the record given the precedent of Otherwise Engaged. And while it's true that Eric Oehler and Jill Sheridan's vocals tend to cleave to a fraught and reflective mood throughout, using just one track to extrapolate the whole LP's shape was an error. Line Of Sight's sheer range of sounds and styles both from within and without the broadest definition of synthpop is nothing short of staggering. Compare the tights and furtive pulse and static of opener "Run" (full disclosure: "Run" first appeared on a compilation released by this website a year ago) with the plush darkwave excess of "Let You In" with the slick futurepop groove of "Four Lines Across The Moon".
Better yet, check just how much is woven into LP highlight "So Bizarre": its house piano and synthbass bounce point to mid-period New Order, but the haunted vocal delivery and its extended lyrical gambit of rendering the political personal feel entirely of Null Device's own design. We've heard countless bands from across the genres we cover at I Die: You Die attempt Line Of Sight's catholic approach to pop right out of the gate. But in truth it takes all but the most preternaturally gifted of musicians years and years to find a way to have songs as seemingly different as "Skaftafell"'s symphonic post-rock sit alongside the clean beats of "Heartbeat In The Noise" and still sound like honest expressions of a single band's ethos.
From beginning to end Line Of Sight excites the listener with a constantly shifting bevy of sounds while subtly reiterating the earthy and emotive songwriting it ultimately rests upon. The entirely pretty and wistful closing number "In Love With The Bad Idea Of You" does both at once by having its instrumentation perfectly mirror the ambiguity of its lyric. Its shoegaze guitar and far-away chimes speak to the quixotic and romantic indulgence Oehler's narrator acknowledges, while a straightforward drum loop pulls things inevitably forward to their conclusion, for better or worse. In a lesser band's hands a song like this might seem trifling or naive, but Null Device add just enough grit to the sentimentality to keep things from entirely drifting away. It's a masterclass in balancing sound and theme, and exactly the sort of thing which makes Line Of Sight a fantastic payoff for decades of dedication to craft. Highly recommended.