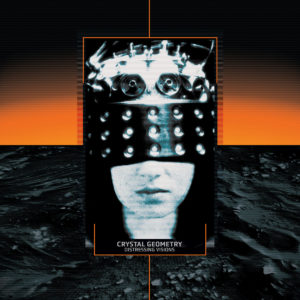 Crystal Geometry
Distressing Visions
Sonic Groove
For all the talk over the past few years about techno body music, it's rarely a genre that crops up in relation to records. It's not a style which seems to lend itself to the traditional LP format, and that's been reflected in our traditional record write-ups here at I Die: You Die (and to a lesser degree in our Year End coverage). Crystal Geometry has proven to be one of the very few exceptions to this rule. Last year's Sinestre earned heavy rotation on our DJ streams and headphones alike, and Distressing Visions handily reaches the high standard set by that record.
Few producers associated with the TBM tag have proven themselves to be as conversant and comfortable with as many different flavours of both techno and body music (in the broadest sense of both terms) as Maxime Fabre. Though it's a little bit shorter than its predecessor, Distressing Visions reaches a wider spread of stylistic territory, and as a result (somewhat paradoxically) feels more unified as an LP rather than just a collection of one-off club bangers. Sure, just about any of the record's ten tunes could slot into any DJ set with an interest in current dark electronics, but nothing ever feels rehashed or like it's struggling to differentiate itself from its surrounding tracks or sounds.
Like I said, Fabre has a far-reaching understanding of the genres he's plying, and isn't content to just reiterate their most common signifiers. The EBM fundamentals of the bassline on "Praxis" are quickly adorned with decadent pads, programming, and clusters of hi-hats. The squelchy acid of "Guillotine" pinches itself into tight, aggressive workouts which should be familiar to anyone who spent any part of the late aughts in industrial clubs, while the stabby programming of opening track "The Seer" recalls the 90s with references to rave and dark electro alike.
Hell, even the use of sampled guitar varies wildly on the record. Compare how "The Threshold" uses a quick sample to add texture to bleepy and murky dark electro, with "Ideologies Ablaze", where a scrapy riff is paired with indecipherable guttural vocals – the concrete austerity of the Berlin sound smashed into hermetic and exclusionary black metal.
Stylish and opinionated (the record's rife with "state power cannot be justified" sloganeering and samples from cult mockumentary Punishment Park, which turns 50 this year), Distressing Visions makes some of the more rote TBM we've heard of late seem even more generic by dint of not having a tenth of its confidence and creativity. There's really nothing not to love about a record as solid, aggressive, considered, and varied as this. Highly recommended.