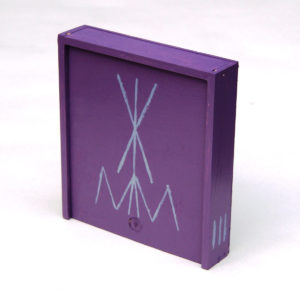 Vlimmer
XI/XII
Blackjack Illuminist Recordings
The odd titling of one-man German act Vlimmer's latest release only obliquely acknowledges the speed with which Alexander Leonard Donat has been releasing work. These two simultaneously released and compiled EPs are, yes, the eleventh and twelfth such EPs under the Vlimmer name in four years, not including presumably 'non-canonical' EPs which aren't treated to sequential enumeration (such as last year's excellent Angststand). That productive run perhaps finds some explanation in the range of styles Donat works with across XI and XII: in cycling between coldwave, minimal synth, martial pop, and plenty of other sounds so rapidly, Vlimmer feels like a project desperate to keep as many plates spinning as possible. In spite of that hurried schedule, the resulting compositions are almost always enthralling, with canny grooves and instrumentation choices finding Vlimmer meeting the challenges of the genre expeditions Donat embarks upon.
If Angststand's tracks showcased an inscrutable and otherworldly aesthetic often kept at a distance from the listener, the tracks here operate within much more familiar milieus. The dreamy yet propulsive coldwave of "Leben" and the gothic drear of "Regen" aren't without precedent, or even clear templates for that matter, but Donat keeps shuffling between moods and sounds so quickly that each number feels like a splash of cold water, keeping you from ever becoming wholly lost in the atmosphere. The promo copy speaks of a distinction between the lighter and more atmospheric stylings of XI and XII's more up-tempo and aggressive approach, but even that sort of division doesn't really keep things static: the bubbly synthpop melodies of XII opener "Farblosigkeit" couldn't be further from the rough, lo-fi drama of the subsequent "Krakenkombat".
Perhaps the one element linking each and every one of these songs and styles is Donat's vocals themselves. Delivered in gulping and tortured German, there's an odd combination of pained emotion and ghostly detachment in how Donat works his way around the dense clatter of "Zerschmetterung", or adds keening croons to the engrossing upward climb of closer "Asphaltdecke". As mentioned above, plenty of Vlimmer's charm comes from its quick-change artistry, but it's nice to have a clear sense of the spirit of the person behind such multiplicity. While less abstract than the Angststand release which got us in the door, XI and XII show off just about everything else Vlimmer has to offer.