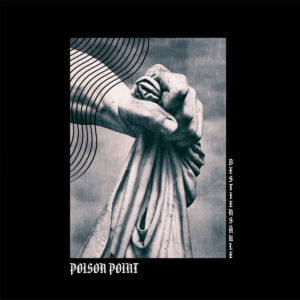 Poison Point
Bestiensäule
aufnahme + wiedergabe
French act Poison Point land squarely in a genre sweet spot on their 2018 EP Bestiensäule. While the frantic synth programming and thudding kick-snare patterns programmed by Timothée Gainet speak to a heavy quotient of EBM in the project's DNA, the vocals and sound design have something of the European coldwave in them. The end result is a five-track release that emphasizes energy and movement, but operates at a cool remove that lends it some mystery and nuance for contrast.
Opener "Daily Void" lays out the Poison Point blueprint effectively. The minimal arrangement of muscly kicks and skittering cymbals drives a cycling bassline with occasional variation as Gainet recites lyrics in an affected monotone. It's a approach that allows the song to move along at a fair clip, but also makes the moments where the drums drop out entirely or the addition of a melodic vocal line seem big and momentous. "Resigned Commander" follows suit with a choppy bass synth attack that occasionally drops into half-tempo, accentuating the return to sixteenth notes without ever changing the beats per minute. It's a clever and surprisingly subtle bit of arrangement, and indicative of the care that Poison Point puts into keeping things from getting formulaic.
Those kinds of minor but vital bits of craft end up defining the latter half of the EP. Sections of "Night Relief" aren't especially different or even distinguishable in a vacuum from the preceding songs, but by having the zippy programming emerge from a lengthy hallway at the song's outset and then ornamenting it with a low, rolling bass sound it feels like an altogether different animal. Closer "Preachers" uses a long ramp, playing things cool for more than half it's run time before allowing a minor outburst of instruments and vocals at its climax more than four minutes in, a brief moment of catharsis that fades as quickly as the song does.
It can be a little hard to believe Bestiensäule is almost 25 minutes in length: its pace and structure make each visit seem to go by in a blur. That it can stick to a gameplan that's so easy to grasp and still find small ways to keep it interesting is impressive, demonstrating a thoughtfulness and light touch that isn't necessarily noticeable at first, or even second glance.