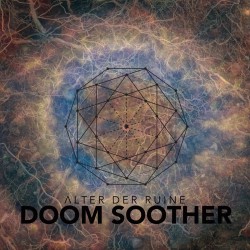 Alter Der Ruine
Doom Soother
self-released
The long farewell of Arizona's Alter Der Ruine has, from certain perspectives, been going on for at least a couple of years. From the mournful tour de force of I Will Remember It All Differently to the release of the Gravity Haunts Us All EP which coincided with the announcement of the band's dissolution, and now to the release of Doom Soother, the trio of Mike & Tamara Jenney and Mike Treveloni are perhaps finding it hard to say goodbye. If Doom Soother, a coda to I Will Remember It All Differently, is in fact the last missive from the group, it makes for a nice capper on the astonishing transformation the band underwent, a process now coming into clearer focus in the rear-view mirror.
Pitched as "the skeletal remains of what started as I Will Remember it all Differently…[recorded] shortly before we disintegrated," Doom Soother carries on with the elegiac fragility of that record, and fills in a couple of blanks along the way. "Up Like It Is" weaves the band's early crunchy electro sound through a seasick discotheque, while "Feel It Again" elaborates on the brooding rock found in later tunes like "Quiet Crime". But it's "Where Are The Bells?" which best showcases the elegance the band tapped into in their last days, and really the larger shifts ADR has taken. Part smartly executed electro-pop, part free-form roaming through pastoral synth meadows, it's a gorgeous piece of work very far from the sound of the electro party band who first charmed us way back at Kinetik 2010.
As the clatter of Alter Der Ruine's work receded (but never entirely disappeared), it was replaced in the spotlight by the croon of Mike Treveloni, which is on point throughout Doom Soother. Whether he's in smooth cruise control over the gear-shifting sequences of "Sleep Like I Used To" (a nice combination of millennial industrial club programming and some crack rock drumming from Mike J), or traipsing through a Robert Smith-like bedroom self-confessional on the aforementioned "Where Are The Bells?", he finds just the right register to carry the listener through the sometimes funky, sometimes melancholy moods of Doom Soother.
I'm not sure if the EP's title is meant to connote the pacification of fans (or the band themselves) in response to ADR closing up shop, but it's a fittingly bittersweet thought. The last few years of the band's run were certainly their most accomplished, and with these extra pieces of the puzzle the breadth and power of their work is that much clearer.