Replicas is the handle we use to write about reissues and archival releases, offering some thoughts on the original material, and whatever additional goodies may have been appended. Today we're taking a look at an attempt to boil a band's discography spanning four decades down to a single disc…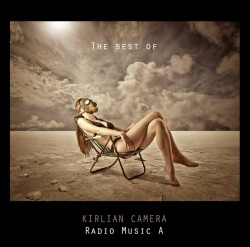 Kirlian Camera
Radio Music A
Norton North
What is it?
There have been a good number of Kirlian Camera compilations to date; no surprise given the length of the band's discography and its journey through space disco, darkwave, neo-folk, dark electro, and back again. While those releases have attempted to frame or summarize particular periods in the band's history, small and large, none have stated so large a purpose so plainly as Radio Music A does, with "The Best Of" printed front and center on its cover. We're now presented with a compilation which doesn't just give us a snapshot of a certain era in Kirlian Camera history (as with 2010's Not Of This World) or an exhaustive excavation of the past (in the case of the 4-CD version of Odyssey Europa), but is trying to offer nothing but the highlights of Angelo Bergamini's work with Elena Rossi and numerous other collaborators. No small task!
What's on it?
A core of Kirlian's earliest darkwave hits is well-represented here, with "Blue Room", and "Heldenplatz" appearing in their original 7″ formats. "Eclipse", still the band's most widely known song appears here in its 2008 anniversary edition (mislabeled as being from 2009 in the notes), its bed of synth-strings and pads still a wonderful base for Fossi's iteration of Emilia Lo Jacono's original version. But the band's middle period, by turns offering its softest and most abrasive moments, is somewhat absent, with only "The Desert Inside", a 2011 rework of "After Winter", and the still stunning "Ascension" standing in for the bevy of work released between Eclipse and Invisible Front. Passing over Todesengel, Solaris, and Still Air in their entirety (not even "Absentee"?) is a painful omission, especially when the two most recent LPs, Nightglory and Black Summer Choirs are each represented by two essentially unchanged tracks (the version of "Nightglory" included has a slightly different vocal).
Who should buy it?
Kirlian die-hards (and I readily count myself as one) will be happy enough with the unreleased material on offer, including a radical and snappy reworking of "Dead Zone In The Sky" and a sequel to Black Summer Choirs' "The Fountain Of Clouds". Note that while the band's collaboration with Italian futurepop outfit Blank may be new to listeners, it's not "unreleased" as indicated. This, the aforementioned "Eclipse" mix-up, the mislabeling of "I'm Not Sorry" as being from 2013 instead of 2011, and most of all the thirty seconds of blank space appended to "Nightglory" (by accident, if the listed track time is any guide), are the sort of curatorial errors that detract from an attempt to showcase the best that this legendary band has to offer. Are these minor mistakes? Perhaps, but it's tough not to notice them when the actual music on this release has meant so much to fans like myself. To give credit where it's due, the gorgeous treatment Norton North recently gave to Eclipse in their recent box set proves that they're driven by a similar passion for the band.
What, then, can Radio Music A offer to casual listeners or newcomers? It's surely the most concise overview of the band's discography yet attempted, and despite its omissions it should give unfamiliar listeners a handy enough triangulation of their work. But, with the excellent and thorough 2-CD version of Odyssey Europa still being relatively recent and available, it'd be tough to recommend choosing this release over Odyssey as a starting point, with Nightglory and Black Summer Choirs as remedial listening to catch up with where the band's currently at in their journey through space and mind. Is Radio Music A a perfect single disc summary of the best of Kirlian Camera? No, but perhaps this release's trials demonstrate that such limitations and demands can't be imposed on a band so expansive and enthralling.