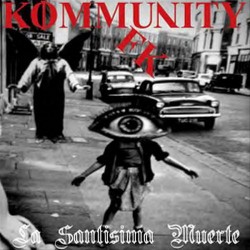 Kommunity FK
La Santisima Muerte
KommunityPM Rekords, 2010
(While we normally try to review relatively recent releases at ID:UD, Kommunity FK's 2010 record slipped past me the first time around. I knew that there was talk of a reformed KFK gigging a while back, but had no idea that a new LP had also been assembled. I haven't been keeping up with deathrock as much as I should for the past couple of years, but on the chance that La Santisima Muerte hadn't made it onto other folks' radars I thought I'd talk a bit about it.)
The Kommunity FK name has always been inseparable from the historical and musical foundations of deathrock, but Patrick Mata has never been afraid to explore that genre's origins. 1983's The Vision And The Voice showcased Kommunity FK's punkier side and '85's Close One Sad Eye their gloomier one. This time out, it's the glam roots of deathrock which are on display.
Big, unabashedly Los Angeles guitars churn along overtop funk break drums while Mata presides over everything with a wispy Rozz-as-Bowie croon. Factor in some light techno touches and you've got something which bears a resemblance to Andi Sex Gang's 90's output, but with a bit of a rougher edge. In fact, La Santisima Muerte's rough n' tumble approach to production, whether intentional or not, does nicely set it apart from plenty of other reunion efforts from bands who operated within the general punk ethos, only to have faults which went unnoticed in their original work brought to light by modern studio techniques (perhaps the major drawback of the recent Specimen album). While the guitars on this record are made stronger by the in-the-red mix, Mata's vocals often come across as needlessly muffled, however.
With this template in place, Mata makes slight tweaks to lend subtle casts to individual songs, like the Suicide road-trip of "We Belong Dead" and slower, metallic head-nodder "Watching The Worldz Kollide". The heavy reverb of "Protektion" reminds me of nothing as much as Cold Cave's "Now That I'm In The Future", of all things. While plenty of these songs do a good job of building an appealing groove, like "23rd Curse", they sometimes tread water once that's been accomplished and overstay their welcome ("Let The Right One In", the aforementioned "Protektion"). The combination of punk, goth, glam & electronic beats which make up La Santisima Muerte is a unique and pleasantly surprising one, but I feel as though knocking a minute or so off a handful of the tracks might have kept their novelty a tad punchier.
One track which certainly doesn't lack for brevity and impact is the closing cover of the stone classic "The Sun Ain't Gonna Shine Anymore". Stripped of all the symphonic ornamentation of The Walker Brothers' definitive version, the song functions surprisingly well as a no-frills, sloppy rock track. No fooling, it almost sounds like Johnny Thunders' "You Can't Put Your Arms Around A Memory". It's an abrupt left turn from everything which has come before it on this record, and by contrast shows just how committed Mata was to establishing and maintaining a particular sound for the remainder of La Santisima Muerte.
While not an unequivocal success, La Santisima Muerte deserves points for not retreading KFK's old ground or for trying to hitch a ride with any of deathrock's more recent adepts (neither the post-hardcore inflected menace of Swann Danger and Black Ice nor Cinema Strange's psychodrama by way of Artaud are to be found). La Santisima Muerte stays true to the genre's catholic influences and tolerance for experimentation, all delivered with characteristic drama and humour.