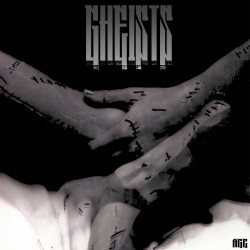 Gheists
Ages
Self-Released
Gheists might not be the record you were expecting from a producer like Mangadrive's Bee Teknofiend, although it's not so far off in sensibility as it might seem. While his main project has been venturing further and further into a militant form of psy-trance, Bee has slowly but surely been developing Gheists behind the scenes: a slower, more shadowy alternative to the shiny bombast of his primary outlet. Existing somewhere in a spectrum that includes witchhouse, trip hop and dub, for all its darkness Age is actually a pleasingly light and refreshing effort. Rather than a "none more black" philosophy of production, the material reflects some of the playfulness of the Mangadrive material, albeit projected through a gloomier prism.
There's been no shortage of downtempo weirdness in Our Thing of late, although I think Gheists is closer in spirit to a group like the seminal Beefcake than any of the triangle and upside-down cross bands. What Ages shares with the material of that now inactive experimental drum n' bass act is a composerly sense of movement and evolution over the course of its songs. While a number like "Hit List" starts with a nasty sample and some crunchy breaks, it quickly hopscotches to dulcimers, than to whooping synth bass, flirts with some eastern tinged leads before ramping back down to nothing. Similarly the reverbed synth on "Crashes to Ashes" recalls some of Coil's earlier instrumental work before a big old church organ kicks down the door, accompanied by a squeaky keyboard patch that begins to take on the tonal quality of turntable scratching as it ascends in pitch.
For all the trainspotting you do while listening to Gheists ("Sunk" has Blue Lines era Massive Attack groove bubbling away under the hood, "Unja Stair" refers to the same Morricone-isms that Snog so often invokes, just to name a couple) I find it much more entertaining to turn off the critical and analytical side of your brain and just let the whole affair transpire around you. One of the nice things about the record's production is that details are allowed to be just that, ornamentation that adds texture and mood without taking centre stage. It may sound weird, but for all the Dracula-black spookiness at play in the arrangement of "Thin Man" or the sinister ghosts that inhabit "Fami(liar)", I like them more for how they transition from one scene to the next without fanfare than for their actual melodic content. It's a record that flows really well, even into the complimentary set of remixes by V▲LH▲LL, Corvx de Timor and iammynewt that close it out. Light on its feet but not lacking in weight or ideas, Ages is a solid effort, the work of a producer who may be shifting frames of reference, but whose work isn't losing any of its actual substance. Nice stuff.