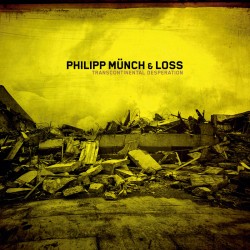 Philipp Münch & Loss
Transcontinental Desperation
Ant-Zen
Somehow the creative meeting of Ant-Zen roster artists Dan Fox (aka Loss) and Phillip Münch (of Synapscape and the Rorschach Garden amongst others) sounds pretty much as you would expect it to. That's not an endorsement or a complaint, it's just an observation on how oddly easy it is to map the strands of each artist's oeuvre in these ten tracks; Fox's shredded percussion and washes of static and the rubbery melody of Münch's work co-existing in a perfect continuum with one another. If anything, it points out the occasions where each artist sometimes resembles the other, a kinship that isn't surprising, but is played to interesting effect.
The songs on Transcontinental Desperation tend to be fall into two groups: either loose, groovy instrumentals or more traditional electro-industrial type songs. Both formats benefit from the skillset of each artist, the ratio of distortion and rusty, scraping textures balanced versus funky bass synths and syncopated drums varies, but neither element entirely supplants the other. Take opener "Winter Dream", which flirts heavily with dark electro both in its creepy descending lead sound and vocal processing straight out of the Suicide Commando playbook and in the judicious use of white noise and saturation used to inject colour at just the right moments. It's certainly a contrast to "The Spirit of Consumption", a straight power noise number enlivened by a plucky synth line that bubbles along beneath the chaos.
If anything it's the naturalistic way Fox and Münch balance one another, finding perfect ways to contextualize each instrument in their sonic palette. The delicate mood of "Daybreak" revolves around careful programming and big atmospherics , but it's the buzzing and short out sounds that run through it that give it distinct flavour. "Uncomfortably Relentless" amps up the use of feedback and bursts of noise to compliment the percussion, the some slapback reverb and bitcrushing applied liberally to create a sort of electronic dub. When every ingredient is brought to the fore on closer "Survival" the control in the chaos is notable; the skill of these collaborators is apparent in how all these distinct sorts of sounds can sit comfortably in the pocket with one another, never boiling over or losing cohesion.
In some ways Transcontinental Desperation feels very much like a classic Ant-Zen album. Much of that label's initial run of classics were creatively predicated in the use of noise in the work of artists like Dive and Esplendor Geometrico, Münch himself was an integral part of the so-called power-noise-movement in it's nascent stages via his work in Synapscape. This LP is by no means a throwback, but it did feel like a revisiting of certain sonic themes from another era, two established artists recreating a sound that reflects and has informed their own work. It's certainly worth a listen for fans of either creator, or for those who are looking for something that sits handily at the nexus of two schools of industrial.