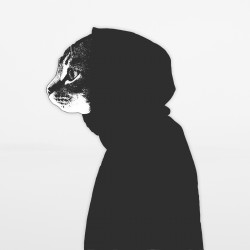 Mr.Kitty
Life
Engraved Ritual
I don't quite recall when I first got wind of Mr.Kitty, although I do remember sitting down to listen to his Emotional/Physical EP for the first time in the winter of this year, and my positive reaction to it. Some of it stemmed from surprise at how developed his sound was: with numerous releases on Bandcamp – none older than 2010 – including three full-length LPs and numerous collections of remixes or covers, one would be forgiven for assuming the Dallas based artist wasn't long on quality control. One would also be wrong. After listening to Life's fifteen tracks of modernized new romantic synthpop I can confirm at least one thing: Mr.Kitty knows his way around a song. Almost preternaturally so, as a matter of fact: across the whole of the LP, I'll be damned if I can find a single throwaway moment.
Part of that consistency is almost certainly due to how comfortably Mr.Kitty works within the confines of his style. While some of his earlier work was indebted to other artists (some songs referencing the punky electro of Crystal Castles or the sleek italo nods of Chromatics), Life is certainly his own thing, a blend of classic and contemporary synthpop sounds, all wrapped in charmingly self-aware teengoth aesthetics. "Heaven" doesn't feel like a throwback between its chirping synthlead or its choral pads, but there's no denying the sense of nostalgia it conjures, the chorus of "I can die now/cause I'm in heaven with you" is sung with such gentle commitment that it evokes a time when that sort of declaration seemed totally reasonable. The record is filled with those moments, little soundtracks to fantastical versions of adolescence; "Choke"'s affected verse giving way to a drama-filled chorus, backed all the while by clean ascending synth arpeggios, "Amnesia"'s invocation of fading love, lines like "My mind is consumed/Fill me up with gloom" delivered with absolute sincerity.
That sort of idealized teenage ennui is Mr.Kitty's wheelhouse and he rarely strays from it, although I'm happy to report it doesn't become tiresome. While a whole hour of music in the all-or-nothing, no-one-has-ever-felt-these-feelings-before vein might have come off as cloying, Life is almost counterintuitive in its confidence. Sure, these songs might lyrically seem like they're about the confusion and uncertainty of youth, but there's nothing amateurish or halting about them. It's actually kind of amazing how much, ahem, life gets squeezed out of the "reverb and chorus" formula, and while there might not be a world of actual difference between the structures of simple, easily digestible slices of melancholia like "Insects" and "London", it's not something you even notice unless you're looking for it. The sticky hooks and easily hummable melodies aren't in short supply, and even in the most downtempo of moments the emphasis is always on the pop part of the synthpop equation.
It could be that I've been buried under a sea of difficult to parse albums of late, but I really appreciate how pleasant Life is to listen to; for all of its emotional melodrama, it has an obliging and cordial quality. It's just fun, and easy to enjoy to boot. The fact that it's also a whole hour long and never seems to wear itself out or provide an easy break-point in listening is equally admirable. In it Mr.Kitty has crafted a near perfect collection of songs, each one flowing into the next with a kind of cultivated certainty. As new synthpop goes it's a corker of an album, looking over its shoulder to the past as it forges on ahead into a cool new future. Good stuff.