The first Terminus Festival was fortunate happenstance, kismet. Three different North American industrial tours just happened to be rolling through Calgary at the same time, and the promoter and owner of the venue, Dickens Pub's Chris Hewitt, saw an opportunity. A few local bands are added, some cool graphics are whipped up, and presto! What would've just been three one-offs is an instant festival!
Terminus' sophomore year was different. Muchly so. With a host of bands from around the world representing an incredibly wide range of sounds, new and old, Terminus wasn't just bigger the second time around, it was also taking more chances. Having signed on to DJ well before any bands were announced, the two of us spent months firing excited texts back and forth each time a new crop of names was unveiled, scarcely believing how ambitious and exciting the festival was shaping up to be. If you were there, you already know what a huge success it was. If you were following along on Twitter, you got a sense of how much fun we were all having. If you've read any of the dozens of Facebook messages from bands and attendees (many of which read more like mushy high school yearbook messages going well beyond "H.A.G.S." brush-offs and into full-tilt "I MISS YOU ALREADY!!!" territory), you got a feel for how much Terminus seemed to mean to people this year. We're adding our voices to the chorus, firing off a dozen things that made Terminus awesome.



Comaduster's Debutante Ball
It might be a bit disingenuous to cite a show just down the road from his hometown of Edmonton as Réal Cardinal's big coming out party, but that's what the second set (and Comaduster's second appearance) at Terminus felt like. Coming immediately on the heels of the release of Hollow Worlds, the timing couldn't have been better for a bunch of out of towners, including many of industrial's most important current musicians, to not only hear Comaduster's new material, but also to see how Cardinal transposes it to the stage, with drum pads, on the fly vocal distortion, and touch-pad guitars. We've been talking up the band's spine-tingling blend of hyper-detailed IDM pretty much since we started the blog, but all we had to say after Comaduster's set was "told you so."
Smooth as Scapa
By far and away, one of the most heavily recurring themes in conversations with bands and attendees at this year's Terminus was how smooth and efficient everything was running from a production standpoint. Whether it was shuttling folks from the airport to the hotel that was within spitting distance of the venue, keeping sets on schedule, or being available to deal with anyone's questions or concerns, Chris and Ambor and the rest of the Dickens' staff were completely on the ball for the duration of the festival (and before and after in dealing with travel). Things can get pretty hairy pretty quickly when you're tasked with wrangling over twenty five (boozy) bands and several hundred (also boozy) fans for a weekend, but the Terminus crew get full points for making sure everyone else's good time kept on rolling.
∆AIMON Meets iVardensphere
We've seen our pal Scott Fox play as iVardensphere a lot of times in a lot places, going back to when the live act was him, Chris LaCroix of Virtual Terrorist and a modular on stage, all the way up to the current incarnation as a fluid army of percussion. Fox deserves respect for not only developing the project's sound but concentrating an equal amount of effort on the performance aspect, and his desire to give the audience something they've never seen before. One such moment was an absolute highlight of the Terminus weekend, when our Nancy of ∆AIMON joined Fox (along with LaCroix, iVardensphere stalwart Chuck, Caleb from Melt, Servitor Sanctum and Mike J of Alter Der Ruine and Assemblage 23) to perform iVs' "Chasing the Dragon", a song they had never played live before. The performance was cool, but it was moreso the fact that it was an absolutely unique experience that could only happen at that particular moment in time, in that room with these artists in attendance. It felt indicative of the special energy of the 'fest, and the sense that something special and unique was in the offing.

Feng Shui
Dickens is a pretty unassuming venue from the outside, and even when you head down the stairs and inside it isn't beating you over the head with its presence, but we quickly realised just how well the venue's layout played into its favour. Just the right size for a festival of this scope, the venue gave clear lines of sight of the bands from plenty of spots, and more importantly felt smoothly partitioned, with the front of house connecting to the raised couches area as well as the bar and tables, and an adjunct room in the back giving the vendors a bright and open area with plenty of table space. It was ridiculously easy to float in and out of conversations with friends, move up front to stomp to your favourites, scope band merch, then retreat to a table with a pint. Feeling like a truly communal space, Dickens' setup allowed people to see as much of the bands as they wanted, while still catching up with friends from around the world; a key component in any successful festival vibe.
Vancouver's Triple Threat
We try to bring you as straight dope as possible on industrial and related music here at ID:UD, but are we predisposed to bias when it comes to our hometown? Goddamn right, we are! That's why it was a blast to watch three Lotusland bands go back to back to back on Sunday night, with Stiff Valentine, Unit 187, and Left Spine Down each bringing Vancouver fire to the prairies. We've seen SV and LSD more times than we've been on buses that derailed while turning at Robson and Granville, but there's something special about being in a different province, looking up at the stage and saying "Hey! Those are the people I hang out with on the weekend!"
Calgary Steps Up
Look, we may have said some mean things about Calgary in the past (okay, Alex has said a lot of mean things). All political and social issues aside though, it was downright heartening to see how much the city had pulled together in the face of the terrible flooding that had occurred just a week previous, and had threatened to shut the whole of the city – and consequently the fest – down. With images of destroyed houses and flooded streets fresh in our heads, we were surprised to see a city putting in the work to get things back up and running, from restaurants and shops to bars. Not specific to the festival by any means, but maybe some of that same can-do energy came through in Chris and the Dickens crew's efforts: not giving up, but giving it all. Good show Calgary, we owe you some beers.
Legend Drops Jaws
If you heard anything about Calgary last weekend, we'll wager it was about the astonishing performance from Iceland's Legend. We
liked their debut LP
last year, and had heard reports of a good live show from friends in Toronto but that never could have prepared us for the pure rush of energy and ridiculous stage presence they brought to Dickens. The whole performance was a blur of drums, live keys, Krummi's insane vocalizations and smeared make-up, but the consensus of every single person we spoke to, from musicians to attendees was the same: Legend set a new standard for live electronic acts in a festival setting. It's hard to describe the intangibles of it (that's why they're called intangibles), so suffice to see that you'll need to see it for yourself, and if word keeps travelling the way we're seeing it right now, you'll hopefully have the chance before long. Skál!
They Walk Amongst Us
You know who didn't hang out with the crowd to watch bands? No one we can think of. Pretty much everyone could be seen checking out a band at one point or another, and usually a bunch in a row. It's natural to assume that many acts (especially ones who've come a long way and crossed timezones) might wanna take some chill time, but everyone seemed glued to Dickens, and could be found chatting with fans, singing along to bands and generally enjoying the festival vibe. Maybe it's because of the comparatively small space, but that gave the whole thing an extra element of cool to us: it's always fun to see band you dig, but when you get to see another band you dig dancing and singing along in the audience with you, that's special.
Get The Balance Right
The range of bands booked for Terminus was impressive right from the earliest announcements. Starting with a perfect mix of new and old acts, Terminus didn't shy away from keeping things as eclectic as possible. It would be difficult to find much overlap in, say, Left Spine Down, ∆AIMON, and Assemblage 23's sounds, but there they all were, playing in the same four hour window. Even if you were only at the festival for one of its three nights, you were probably treated to at least one band you weren't familiar with whom you ended up liking (and maybe even buying a record from). As a promoter, the temptation to pad your margin with sure-thing crowd pleasers is huge, but Terminus gave opportunities to plenty of up and comers and lesser known acts, and we guarantee that everyone's festival experience was richer for that.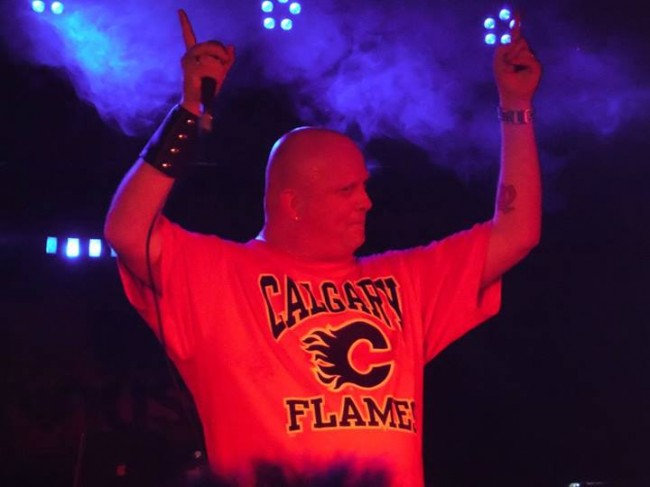 Claus Ist In Der Haus
Of all the big names playing at Terminus, Claus Larsen's the one who's been in the game the longest, and we were pleased as punch to get a double helping of his work, aided by husband Kurt, starting with the first North American show by the punkier Klutae. The immortal Leæther Strip were scheduled to close Terminus out with a full ninety minute set, but the dark electro onslaught went on even longer, digging through the back catalog, including perennial ID:UD HQ banger "Don't Tame Your Soul", up to the more recent "Civil Disobedience", and finishing with a couple of covers (including "Sex Dwarf" being lasciviously aimed at the more hirsute and ursine of the senior staff). Claus' work has been a beacon in dark electronic music for decades, and it was only fitting that he got the last word.
DJs Got Love
It was really flattering how many people came up to us (and who we saw chatting up the other DJs) during our sets to talk about tunes and offer props. We've been shown love in a lot of places and by a lot of folks (as an aside, thanks to Terminus, and to everyone who has ever booked us to spin, we appreciate it!), but it felt especially nice to be allowed to contribute something to an event this cool, even if it was just rocking some tunes for people to enjoy before, after, and between acts. Mad love to Mighty Mike Saga, Matt Pathogen, Jinx, Gothfather and Siborg: it was an honour and privilege to work with you and we hope to get the chance again soon!
Everyone Brings Their A-Game
We feel mad guilty for singling anyone out for special praise at what was such a positive event for everyone involved: to us there wasn't actually any single moment where we stopped caring about what was happening on stage. The list of highlights could go on for ages, but before we get to a short list off the top of our heads, we want to commend every artist for their efforts, from opening bands to headliners it always seemed as though people on stage were giving their all. That includes Defence Mechanism hitting the stage for the first time in two years and winning over an unfamiliar crowd (especially with a great cover of In Soc's "What's On Your Mind" featuring Kaine from LSD on vocals), Distorted Memory playing an entire set of new songs and consequently selling a bunch of copies of their rad new album, Dead When I Found Her busting out their rad Prince cover to end their set complete with gully-ass guitar playing from Michael Holloway, ∆AIMON slowly realizing as their set went on that the crowd they weren't sure would be into them was 100% on board, Joey from Blush Response hanging from the ceiling, Marko and Marco from XP8 (the former of whom was on the ground in Canada for less than a day total) giving it their all in the face of travel fatigue, the pig-masked-front-row-face-fucking during HexRx, The Gothsicles being typically atypical and awesome…we could go on, but suffice to say it was pretty amazing how much each musician seemed to feed off what was going on and apply it to their own set. This could have been a whole article about how great each band was, but we wanted to talk about other stuff too, so please take this as a little encore of applause from us for everyone who performed: ya'll were all wonderful.
What was your highlight of the festival? Any hopes for the just announced third iteration? Let us know in the comments!